Skip to Main Content
More on Missing Tapes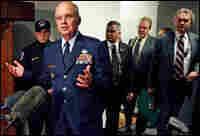 The existence and subsequent destruction of CIA videos recording the interrogation of two Al Qaeda suspects is a story that keeps running and running. Since we last talked about the controversy on TOTN, NPR Intelligence Correspondent Tom Gjelten has reported on the reason the tapes were made in the first place, a story which also dismissed the official version of the reason they were destroyed. Gjelten also reported the existence of additional interrogation tapes. The New York Times reported that members and staffers of the 9/11 Commission conclude that the CIA deliberately withheld the tapes from their inquiry despite "very detailed" requests (former Commission Co-Chair Gov. Thomas Kean spoke to this point on our previous program). Here's a link to a Washington Post follow-up to the Times story, which includes CIA response.
Also, US District Court Judge Henry Kennedy held a hearing last Friday, but appeared ready to hold off on a more detailed inquiry upon learning that the joint CIA-Justice Department inquiry would specifically include court orders, including one issued by him. Last Thursday, in a news conference, President Bush asserted that there was no ambiguity in the statement that he does not recollect learning of the tapes existance or destruction prior to being briefed by CIA Director General Michael Hayden earlier this month.
The House Intelligence Committee plans to press its investigation — Chairman Silvestre Reyes (D-Texas) is among our guests today, along with NPR's Tom Gjelten, and two well informed attorneys with opposing views, David Remes and Lee Casey.
And you, of course. What questions do you have about the tapes, why they were made and destroyed, or about where the story goes from here?
Why does correspondent Tom Gjelten use the term "enhanced interrogation techniques"? Wasn't this term coined by the White House and the CIA? What does it mean? Did all correspondents sign a pact to use this term instead of "torture": Why not say "so-called 'enhanced interrogation techniques'"?
For two reasons the issue of the CIA tapes is a non-issue and is nothing more than wasting our time and the tax payer's money. consider the following:
1) Those in congress demanding investigations are not motived by the human rights principles against torture and are only interested only on accountability factors. If the central issue is not how the CIA got the info, then its not worth investigating what they did with the info.
2) The CIA's argument of protecting its investigater as the reason of destroying the tapes are also non issue, since its electronically possible to preseve the tapes while blacking out the faces of the CIA personal but neither those in congress nor the media are giving this more scurtiny. Hence, my position of non-issue issue. Torture, is abhorent and should be the main driving factor of this issue, and bringing those who commit torture to justice the goal rather than bringing anyone to justice for accountablitiy bases.