Skip to Main Content
A Christmas Message From Our Newest Guest Host... Ari Shapiro!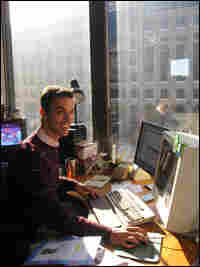 This morning, millions of kids around the world woke up with hearts pounding to see what Christmas Day has in store for them. And for the first time in my life, so did I.
As a Jew, Christmas for me has never been about much more than movies and Chinese food. (Believe it or not, there are ancient connections between Jews and moo shoo — one of our first hour guests will explain.) But today, I'm hosting an NPR program for the first time. That makes this by far the most memorable Christmas I've ever had. Hopefully it will be memorable for the right reasons. If not, I'll have something in common with the guests in the second hour of our program, who'll be talking about their holiday disasters.
Over the last few weeks, the incredible production staff of the show has been teaching me Talk of the Nation's secrets. There's the instant messaging software that the host uses to talk to the producer ... the mysterious "floating break" that lets stations duck out of the show for fund-raising (who's fund-raising on Christmas?) ... and the ten-second delay dump that lets the host go back in time if someone starts swearing on the air. I'm scheduled to learn the secret handshake at noon, and they tell me I'll get my TOTN tattoo after the program's over.
Some of my friends have offered moral support for my debut today, and many more have said they'll crank call the show. If you hear heavy breathing on the program, you'll know that one of them made it past our call screeners.
I am happy to say that some of my more experienced colleagues are going to be joining me on the air. Newscaster Paul Brown will pitch in for our segment on who's working this Christmas, and NPR's famed legal affairs correspondent Nina Totenberg has a story straight out of I Love Lucy for our segment on domestic disasters.
In a few hours, the microphone light will turn on and we'll be in it together for the next two hours. I hope you'll be there by the radio. Merry Christmas, and thanks for letting me spend the holiday with you.
— Ari Shapiro
Hey Ari - You looked great on NewsHour last week.
Good Luck on live radio and have fun-
Love, Uncle Robert
I grew up in New Jersey. I remember a restaurant called Ginsburg and Wong's; the menu was huge. One side was typical Jewish deli food and the other side was equally uninventive Chinese food. I have vivid memories of the whole experience. My brother tells me that I am making the whole thing up. If any of your listeners is from anywhere near Cherry Hill, New Jersey, and remebers this place (it would have been in the 60s or 70's, and I think it was in a hotel called the Rickshaw Inn -- I'm not kidding.) please let me know. If I'm making it up, I'll start franchising.
The West Coast Fan Club is standing by with hearts palpitating in joyous expectation...the highlight of our day, also...Gale Gottlieb
Not only to Jews in SF eat Chinese, we go to Kung Pao Kosher Comedy! Best thing for us to do on Dec. 25, as it's just another day for the millions of us who do not celebrate this holiday
Ari: You did awesome, just listened to the podcast last night! Kudos...and get that tattoo :)