Skip to Main Content
Benazir Bhutto (1953-2007)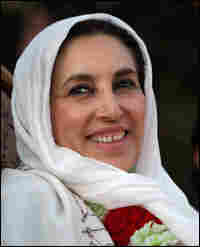 Former Prime Minister Benazir Bhutto was assassinated at a political rally in Rawalpindi, Pakistan, this morning. During the first hour, we'll talk to journalists, policy experts, Pakistan's ambassador to the United States, and U.S. Sen. Robert Menendez. What questions do you have about the killing of Benazir Bhutto? And how do you think her death will affect Pakistan's future?
You can read more about our guests, after the jump.
Peter Wonacott, a senior correspondent for The Wall Street Journal, will join us from Islamabad, Pakistan. Zia Mian, of Princeton University's Woodrow Wilson School of Public and International Affairs, will talk to us about Pakistan's national security. Former Ambassador Peter Galbraith, who was friends with Benazir Bhutto, will speak to us about her influence and the political fallout from her assassination. And Ahmed Rashid, the author of Taliban: Militant Islam, Oil and Fundamentalism in Central Asia, will take part in the conversation from his home, in Lahore, Pakistan. In the final segment, we'll talk to Ambassador Mahmud Ali Durrani, Pakistan's ambassador to the United States, and Sen. Robert Menendez, who sits on the Senate Committee on Foreign Relations.

Once again, wherever religiously motivated primitive tribal-types gather in numbers, chaos reigns.
I???m surprised she lived this long.
Western-style Capitalist Democracy is simply too good for some people.
What???s the score in Pakistan: Sharia Law ??? 1 Democracy ??? 0.
Allah Akbar???boom!
What would happen in the U.S. if a presidential candidate was assassinated so close to election day? Would the V.P. candidate move to the top of the ticket? Would the election be delayed?
Everyone wanted Musharaff to lift the state of emergency, right? Perhaps events are unfolding exactly as he had planned. Now he can re-declare the state of emergency and suspend elections indefinitely.
I am very concerned right now for the security of the United States.
About a week or a month before 9-11-2001, the leader of the Northern Alliance was murdered. In retrospect, we find that Al Quida did this to eliminate the only viable person who could fight against them on their own territory. Al Quida is known for doing violent actions in groups at a time. Is the United States preparing for an Al Quida's assault? Or is President Bush asleep at the helm again?
I have a son who is a 3rd year surgery resident; he's on call 105-110 hours per week. He is forced to log only 80 of those hours. Why have the accreditation rules if teaching hospitals are going to abuse them? Why isn't more attention paid by the accreditation service to this abuse?
this is so sad. what more could have been done for her security (against suicide bombers)? what will happen now?
A small country like Pakistan should never have that big army, security agencies and nukes. All the chaos and mayhem, are compunded, if not created by this huge stake. What the US admin has done in decades is capitalise on this huge warlord-providing country, and not question this destablizing factor in the region.
And I am saying this as aperson born and bred in Pakistan