Christmas at the Widget Factory : Blog Of The Nation Working on Christmas Day ain't all bad!
Christmas at the Widget Factory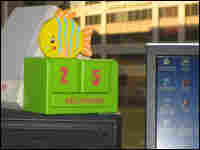 It'd be pretty easy for me to be a real grinch today, if I wanted... yup, here I am, working on Christmas. But instead of complaining about it — waaaaay too easy — I'd rather talk about the good things. It is Christmas, after all! So here are the good things about working on Christmas, in no particular order (save that first one):
1. My family's awesome, and time-shifts Christmas morning to whenever I get home this evening. That's love, people.
2. The morning commute is a breeze. Not so hot is the fact that Dunkin' was closed — no coffee for Sarah — but the fact that there were literally three DC cop cars idling in the parking lot anyway filled me with mirth. So on the whole, that counts as a good thing.
2A. The NPR parking garage is free for the holiday. Score!
3. The "we're all in this together mentality." Of course, getting the show on the air can be a trial, but today, sweetness and light.
4. I get to direct the show today, and play holiday music for every break! You know I love that!
So, if you're working today, I want to know: what's good about it?