Steeped In Cash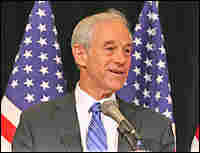 Last Sunday, Rep. Ron Paul hosted an online "tea party." His supporters dumped nearly $6 million into the congressman's campaign coffers. (That is the largest sum a candidate for president has raised in a single day). Chris Cillizza, of washingtonpost.com, tried to figure out what Rep. Paul will do with all that money. And he wondered why the campaign can cultivate donations, but few new supporters. Bret Hayworth, of the Globe Gazette, in Mason City, Iowa, asked the same question.
In the first hour, our "Political Junkie," Ken Rudin, joins us again, as he does every Wednesday, to talk about politics and the campaign for president. As usual, [almost] anything goes! Leave us your questions. Send us your comments. We're going to talk about Rep. Ron Paul, then we'll turn our attention to Iowa. David Yepsen, of The Des Moines Register, will join us. If you live in "the Hawkeye State," are you excited about the caucus? (If you can't wait for the political season to be over with, tell us why).
I really wanted to ask David Yepsen why his paper didn't invite Kucinich or Gravel to their democratic debate (supposedly because they don't have store-front campaign offices in Iowa) but Alan Keys (who does NOT have an office there, much less a real shot at nomination) took part in the republican debates the day before. Sadly all I got was the busy signal.
Funny but I think the support is there and the measuring method is broken.
I confused as to why these commentators don't see 24,000 new donors as 'new supporters' of the Ron Paul campaign. Am I missing something?
The question I'd like to ask is what Ken Rudin believes it would take for Ron Paul to win the Republican nomination.
Thanks!
I was very disappointed with the coverage of the one-day record set by Dr. Ron Paul's supporters. The show spent less than two minutes discussing the significance of the unprecedented outpouring of grassroots support for Dr. Paul. I expected much better coverage from NPR.
There is a real revolution taking place in this country. Dr. Paul supporters are citizens who are fed up with the status quo of both the Republicans and Democrats. These supporters are disgruntled with Washington, D.C and previously apathetic towards the political process. For example, the supporter who independently organized both of the record online fundraisers has never voted before. These supporters are not on the polling lists
nor being taken into account by political pundits.
Dr. Ron Paul in his own words:
On just one day, in honor of the 234th anniversary of the Boston Tea Party, the new American revolutionaries brought in $6.04 million, another one-day record. The average donation was $102; we had 58,407 individual contributors, of whom an astounding 24,915 were first-time donors. And it was an entirely voluntary, self-organized, decentralized, independent effort on the internet. Must be the "spammers" I keep hearing about!
The reasons Ron Paul hasn't done well in the polls are these: 1. He has been excluded from many of them. If you look, quite a few of them don't even have him as an option. 2. The Republican Party members who are polled are often only those with land lines. They usually do not call cell phones, and many of Paul's supporters are of the 'cell phone only' crowd.
Also, some online polls show him doing excellent, however those polls are often 'missing' soon after they are taken.
One CBS online poll was attached to an article talking about how well Huckabee was doing yet when a person takes the poll it showed Paul at 90% or better!
Where's the coverage of Ron Paul in this segment? You headline him online, but in the actual conversation you talk about him for less than 20 seconds. Shame on you NPR, for continuing to ignore the only GOP candidate worth voting for.
Steeped in something, But I'm sure its NOT cash.
Who would be his running mate, Joe Lieberman? This man is NOT a viable party nominee. (Not that I care, but) "The powers that be" within the party will not back him.
Prometheus to Pandora: Who cares about the animals NOW, at least we have HOPE.
From: AP
Democrats came to Washington promising to clean up the place, but the 9,000 earmarks, or pet projects, in the newly passed omnibus spending bill suggest that the mess wasn't just a Republican problem.
----------------------------------------
Where are the Republicans? Where is Ron Paul? They too are COMPLICIT!
Doctor Ron Paul is the real deal.
He has the cure for America!
Peace, Prosperity, Liberty. A true Classical Liberal dressed up as a Conservative. -the best of both worlds!
Thanks NPR for your coverage of this decade's 'phenomenon'! :)
NPR coverage of Ron Paul has been pathetic to say the least. I for one am no longer donating to NPR and have redirected my funds to Ron Paul's campaign.
I love you NPR, but your Ron Paul coverage needs to change. If it does, I may consider becoming a member again.
I agree that there is a real revolution in this country. The internet is helping build awareness of the wasteful and often malignant results of forced societal engineering by the U.S. government.
The dinosaurs in power should wake up and notice their eggs being eaten by the small, more intelligent mammals lest they become as extinct as the non-metaphorical dinosaurs.