The Gift of A Wonderful Life : Blog Of The Nation It's a wonderful movie and life!
The Gift of A Wonderful Life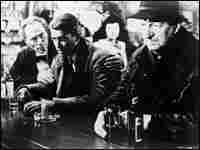 I literally don't know how to explain how much I love Frank Capra's It's A Wonderful Life. I am so passionate about it that I secretly doubt the integrity of people that don't like it. I think it is a triumph of acting (when Jimmy Stewart yells at his kid to stop playing the piano), a triumph of directing (Capra's film noir — inside a film blanc!— nightmare sequence), and a triumph of — yes, THE HUMAN SPIRIT (for goodness sake's this is a film about a man trying to kill himself that turns into the BEST MOVIE OF OUR TIME. ANY TIME.) I've always thought I would practically pay people to see it. Well, it turns out that the UK Film Council — with the help of Park Circus Films — is kind of doing just that. We'll talk to someone from Park Circus, and you can read all about it here.