The Gift of A Wonderful Life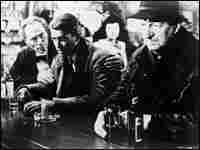 I literally don't know how to explain how much I love Frank Capra's It's A Wonderful Life. I am so passionate about it that I secretly doubt the integrity of people that don't like it. I think it is a triumph of acting (when Jimmy Stewart yells at his kid to stop playing the piano), a triumph of directing (Capra's film noir — inside a film blanc!— nightmare sequence), and a triumph of — yes, THE HUMAN SPIRIT (for goodness sake's this is a film about a man trying to kill himself that turns into the BEST MOVIE OF OUR TIME. ANY TIME.) I've always thought I would practically pay people to see it. Well, it turns out that the UK Film Council — with the help of Park Circus Films — is kind of doing just that. We'll talk to someone from Park Circus, and you can read all about it here.
Potter not catching his comeuppance prevents the film from reaching perfection. Fortunately, I have the SNL version to put me at ease:
Potter not catching his comeuppance used to bother me, too. But after thinking about what the movie would be like if he did, I think it would lessen the strength of the message that wealth is in the love of your family, friends and neighbors, not in your pocketbook. If George got the money back, it would negate the significance of his community's sacrifice for him in thanks for what he sacrificed for them.
The State Theater in Traverse City Michigan has been wonderfully renovated and shows iconic films. It will also show, this christmas season, "It's a Wonderful Life" as well as the original "A Christmas Story" Additionally, it shows simulcasts for the Metropolitain Opera. Seats are wonderful. Sound is great. And the Price is right.