Campaign Mix Tapes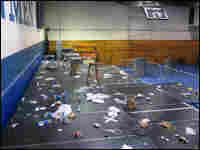 Today's my first day back at NPR HQ after nine days on the road in Iowa and New Hampshire. It was a pretty incredible gig, doing field production with some absolutely amazing reporters, and holding down the NPR fort at both of Hillary's post-polling parties. It was both exciting and terrifying — even though I'm relatively old-school TotN, I was a complete newbie on the road, and politics is not my regular beat so, I was pretty out of my element. I learned a ton — everyone was so helpful and patient — and I definitely have a clearer view of the race than ever before, plus some nascent field production skills I hope to nurture in the future. I'm not going to opine on the race — we have professionals who do that — but I do know about music, and boy, if I never hear Mitt Romney or Hillary Clinton's mixtapes again, it will still be too soon. Don't get me wrong, their soundtracks feature plenty of good stuff, but the mix is never long enough to sustain the event without starting over at the top three or four times. Romney's is all about the remix of Elvis Presley's "A Little Less Conversation." I heard it so many times I will link it with the candidate forever . I also heard Brooks and Dunn's "Red Dirt Roads" more than a few times at Romney events, and while the song is about redemption and compassion, I couldn't help but notice the lyric, "It's where I drank my first beer..." While at first it just surprised me to hear, I now think it's actually a nice gesture, intentional or not. On the Clinton side of things, her mix kicks off with Tom Petty's "American Girl," for which I have nothing but praise. That song always gets me, and it's a great way to open an album and a mix. I think I've even done it myself. Rock and roll expert Carrie Brownstein picked up on the music too, to no surprise, and challenges folks to recommend appropriate but unconventional titles for the candidates to play. I echo her call. Surely each campaign could spring $50 for some iTunes shopping and a couple of blank CDs. What would you want to hear? I didn't hear too many female voices over the PA system, so I'll go first, and nominate one I think would be funny for Sen. Clinton, sung by the awe-inspiring Neko Case: The New Pornographers' "Letter from an Occupant." The first lyric? "I'm told the eventual downfall/Is just a bill from the restaurant/You told me I could order the moon babe/Just as long as I shoot what I want." I'd laugh, anyway, and think she was pretty cool for it!
Carlie Simon's "Your So Vain" would be very appropriate. But, one could change a the word "vain" to "lame".
Campaign theme songs, candidate party mixes! The subliminal messages of equating "American Girl" to Hillary, and common man themes with Rommney is just a new level of packaging/spin.
Similar to Bill Clinton's use of Fleetwood Mac songs (especially after a speech), to leave the crowd feeling good about being lied to for an hour.
It isn't music in the background anymore. It's an audio backdrop.
MAybe the voters need a theme sound. How about the Who's "Won't Get Fooled Again."