Skip to Main Content
Gizmos and Gamblers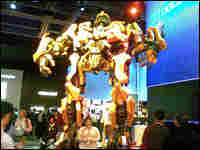 Here's the deal... Las Vegas Convention Center, nearly 2-million square feet of nothing but gadgets, gizmos, and flashing lights, and about 150,000 people all oogling and ahhing over the shiny new playthings. At this show, what happens in Vegas eventually winds up in your living room... think DVD recorders, flat panel TVs, digital cameras, it's all a part of the Consumer Electronics Show. And this year, tech's gone to the driveway, too. While no product is breaking any new ground, things are getting better, and slimmer, and smarter. Camcorders warn you when you get a bad shot, GPS devices respond to your voice, and cars drive themselves. If there's a downside to CES, it's the attendance policy... The public isn't invited. Thankfully, armed with press passes, Larry Magid, tech analyst for the New York Times and CBS News, and Sean Captain of Popular Science made their way into the door, and will give us a preview of some of the innovative new gadgets we'll see in stores in the coming months.
A while back the SanJose newspaper asked for new possible names for Silicon Valley. I suggested Technocrap Valley. One does not have to be a luddite to feel disgust for the new, then instantly obsolete gadget which does just above zero to simplify or enhance one's life. I guess you can call it revenge of the nerds as they "innnovate" their way to gadget heaven, but I like technocrap better.
In response to window's media center program. This is a horrendous program that immensely slows down your computer. I have a computer hooked up to my tv in the living room. It is exponentially easier to just use windows media player for videos and winamp for music via the wireless keyboard and mouse or a laptop with a VNC connection.
Thank you for talking about windows media center I've have this program I have a new laptop and have never used I didn't know I could record live tv! Thanks again!
As I was listening to the show, there was talk about consumers not purchasing some of the new technology. As a consumer one of the solutiions I think is important, is the fact that it is very difficult to understand the hook-up procedures that are involved in the new stuff. The engineers who disign the manuals for this stuff should be shot, or better yet get the engineers out of the process.
A while back I read about the CES and loved it. I just have a question. Does this stuff actually end up in the market? I am working to become a lawyer. So I want to be in the know of everything I have any misunderstanding.