Manhunt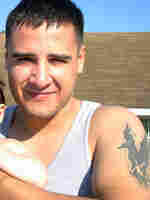 If you haven't turned on your television lately, Marine Cpl. Cesar Laurean, who is wanted by the FBI, has likely fled to Mexico. A grand jury in North Carolina brought five indictments against him this morning. Laurean is a suspect in the murder of Lance Cpl. Maria Lauterbach, a pregnant Marine who was killed, burned, and buried last month.
According to Fox News, the "hunt" for Laurean is on. Law enforcement officers — and America's Most Wanted — are trying to find the Marine. So far, there have been sightings.
We wondered, "How are they going to find this guy? How long can a fugitive live on the lam? And what techniques do investigators use to find criminals on the run? In the first hour, we'll try to answer all those questions. And whatever ones you have. Guests include law enforcement agents, professional trackers, and a forensic artist.
Can persons with misdemanor traffic offenses in multiple states be target? Can these persons be the target of bounty hunters?
What about the use of "psychics" to find a fugitive?
I am at a loss at how anyone could possibly justify, to themselves or others, aiding and abetting Marine Cpl. Cesar Laurean in his flight. God will hold each soul accountable for the role they have played in these events.
But, for immediately results, has anyone considered asking the Pope, or at very least the Cardinal (for the Americas) to decry Cpl. Laurean and all his associates for their participation in the murder of an innocent soul/unborn child? The Catholic church is SO very adamantly anti-abortion, isn't this equivalent or worse? Perhaps were the Catholic church to demand faithful followers to aid in the capture (and eventual persecution) of such a heinous perpetrator, the FBI's job would be swiftly executed.
I am looking for a computer program which ages photos such as the one that Mary Brazas mentioned in her story on Talk of the Nation today (Jan 24) on NPR. I would like to use something like this in my geneological research. How can I find out more on this type of computer program?
Interesting program. I was most interested in the caller who had been caught by having a good artist's sketch of him. He also said that after he was caught, he managed to avoid more crime via some counseling and rehab. Good topic for a future program-- it seems as though most of our prisons just warehouse people and send them back to the street. If we spent near the funds we do in locking people up on effective treatment, we could probably reduce at least the recidivism rate. (The atty. general was concerned about releasing a lot of people as a result of the change in sentencing for crack cocaine offenses, because he doesn't think they'd be ready to go back into society. Hey, why didn't you think about that for all the years they've been locked up? Do we do nothing until it becomes a major crisis?)
I HAVE A FRIEND SHES DATNG A GUY WHO WAS SUPPOSED TO TURN HIMSELF IN TO JAIL ON JAN 28 INSTEAD THEY RAN TO ANOTHER STATE HOW DO I FIND OUT IF HES fugitive and my friend in aiding in this shes the one who posted bond for him aswell.is there a website i could reffer to? thanks