Rolling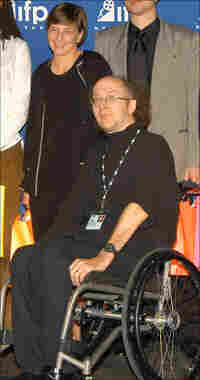 For several years, Dr. Gretchen Berland, of the Yale University School of Medicine, has used film to better understand how her patients live — outside of waiting rooms, clinics, and hospitals. Her newest documentary, Rolling, centers on three Americans, confined to wheelchairs: Galen Buckwalter, Vicki Elman, and Ernie Wallengren.
Berland outfitted each of their wheelchairs with a video camera. For two years, they recorded hundreds of hours of footage. Each portrait shows a person who wants to hold on to his or her independence, and illustrates how difficult everyday life can be. In the second hour, we'll talk to Berland and Galen Buckwalter. If you use a wheelchair, what don't your friends, family, co-workers, and physicians understand?
For ten years I was roommate to a double amputee (at knees). When we would go out to eat, wait staff would address ME in asking for her order. very insulting.
My mother has Multiple Sclerosis and now lives in a Wheelchair all the time. She cannot walk at all, and has to use a Lift to get from the chair to bed. She has become bitter and complacent. She has issues getting a Gynecologist appointment because most of them do not have the equipment to treat women in a wheelchair. The laws that exist ARE NOT enough. I hope as more baby boomers become wheelchair bound, we will make laws that will force companies to make adjustments to persons in wheelchairs. My mother is so depressed, I am not sure what is left to help her. May her experience with this illness be more quick over the next few months to alleviate this sadness she experiences because of the illness and the limitations of being in a wheelchair.
As able bodied people we are hopelessly miopic. I dated a quad for three years and began to understand some of this topic.
Regarding gaze avoidance: we teach our children not to stare then don't understand why they look away as adults. We need to teach children and adults how to engage in a respectful manner.
How are we supposed to act to the wheelchairbound? I have offered to do everything from hold doors to help load groceries and all the above. Some were graetful but most sneered and told me not to coddle then because they are handicapped they are not helpless. We avoid to look because we don't want to stare. We have also learned to pretend they are not there because the rights they DESERVE also drilled into us to treat them as equal.
I am a shy person by nature and don't usually look people in the eye as I pass by, yet because I have heard this before (from folks in chairs about being ignored), I find I will look at people in chairs and nod "hello" so they don't think I'm ignoring them!
I'm not in a wheelchair, but I have MS and it's a good possibility I will be some day.
With respect to physicians not understanding patients in wheelchairs, or patients who are disabled to any extent I would like to recommend that all physicians should be required to read the book "Kitchen Table Wisdom" by Rachel Namomi Remen. It's a beautifully written book about how important it is to listen to each patient and to hear the stories we each have.
My father was in a wheelchair from a car accident when he was 20 and it almost took his life. Growing up with him it was normal for us to see him in a chair. That was very much a part of my father. He never let it stop him from achieving his goals and he became a great Therapist he also adopted 10 children with different abilities and races. My father was an amazing man. Even though he is no longer with us. When I go out with friends and family I notice that a place is not accessible and it makes me mad. One would think that today with the ADA that things would be different. But this is not the case. One thing for me is in the winter people do not shovel their walks and my father would have to travel in the road in the winter. It was hard for cars to see my father. This scared my mother every winter.
I to am differently abled. I have ectrodactily. I have one finger on each of my hands and feet. I have my share of issues with people that I meet. Thanks so much my father would have loved to see the documentary.
I have gone throughout my life trying not to stare or look at people in wheelchairs because I haven't wanted to offend them or have them think I am staring at them because they are different. I wonder how many other people do the same thing, and we are unintentionally causing the same problem that we are trying to prevent.
As a society, we generally avoid eye contact with strangers. Walk down any city street and you will notice this whether you are in a wheelchair, on two feet, skateboard, whatever. Not looking someone in the eye is not a behavior that our society limits to wheelchair bound people.
My son who is a paraplegic as of last December 12/21/06. We obviously live in a conscientious community...Denver Colorado. Often when he is transferring from his chair to my car, we are offered assistance. This last summer outside of a Chipotle Restaurant we were approached by a restaurant designer after just dining there. He wanted to know what they could do to make his ability to place an order easier. He gave them feedback about what he thought needed to be changed. This last April we were in Vancouver, BC. I was pushing my son down the street at night and we hit a bad bump and he went flying out of his chair. Only seconds later he was back in his chair with the assistance of two men who were following close behind. The mayor of Vancouver is a paraplegic. They were in the process of making every street crossing wheelchair friendly.
My husband uses a wheelchair due to Cerebral Palsy, classified as a Developmental Disability, which also affects his speech. His speech disability seems a greater barrier socially and in regards to employment. It is also a significant barrier to engaging in the disability community at large, because many of the issues you have addressed such as gaze avoidance and speaking to a companion in lieu of the individual with a visible disability, is experienced by my husband even within the disability community. Perhaps you would speak to this stratum of disability within the disability community and to the notion that regardless of ability, we are all "People First".
To a different point, the ADA sought to eliminate the physical barriers for Americans with Disabilities. It had little impact on the attitudinal barriers and cultural perceptions of Americans towards their fellow citizens with disabilities. It is these barriers that we as a society need to eliminate. In the UK, it is more difficult to get around than in the US, however, the cultural perception regarding impairment or disability is far less of a barrier than in the US. It is a matter of perception: Do I see the person first, or do I see the mobility aid or disability first?
I was in a chair for about 16 years. Gaze avoidance is one thing... but we're also just invisible. I can't count the times someone jumped in front of me in line because they just "didn't see you".
But what I really got on to say is that architecture students should have to spend at least a semester in a chair. Building, even public buildings like convention centers, are appalling to get around for the chair user. And don't even get me started on retail stores with "aisle dumps" that narrow aisles and make corners harder to navigate.
Or cities where you have to wait two hours for a van cab because there just aren't many. (Thank you, Boston, for your van cab fleets.)
And imagine planning your day around gas stations with some kind of attendant so you can stay mobile.
There is a reason disabled placards trump parking meters. Every single aspect of life just flat out takes longer when you are in a chair.
What does Stacey's (below) comment about the paramedic have to do with this issue?
Six years ago we started the Free Wheelchair Mission. Though sad and disturbing are the stories and clips in Mr. Berland's film, they are not even close to to the ones we hear every day from the over 100 million physically disabled people living in developing countries that do not have a wheelchair and must crawl, be carried, or languish in a back room. For them, receiving even the most modest of wheelchairs is a dream and a prayer come true.
I have had several surgeries and injuries which have required wheelchair use for several months at a time. With post-polio there is some chance of long-term wheelchair use in my future.
I have learned that, just as there are degrees of mountain-climbing skill/capability, there are degrees of wheelchair capability. Some paraplegics can transfer into their vehicle and throw the chair in the back in a way that astonishes me. I was able to transfer well, but needed someone to load the chair for me.
No one is entirely INDEPENDENT and most folks concerned with ADA are not fully DEPENDENT. All people are INTER-dependent. Just because we have a disability, doesn't mean the rest of the population must suddenly become mind-readers. They hesitate because they've gotten, "Don't presume I'm incapable," huffiness from some "activists." I don't think we can legislate or litigate our way to being treated as we would like to be treated.
If we can ask confidently for what we need and politely decline services we don't need, that would be one step toward a more realistic INTER-dependence. And for the able-bodied who want to know how to behave -- how about ASKING? Instead of grabbing the chair handles and steering where you imagine we are going, a friendly "Is there something I can do -- hold the door? carry that package?" Then if we aren't insulted by someone who simply sees the reality that we are struggling, we could chose to say "Thanks for the thought, but I really want to learn to do this for myself," or even graciously accept a service that just makes life a little easier.
Thank you for such a wonderful interview. I cannot wait to see the movie. The Doctor that was interviewed/movie maker plus the people that live the real life had me realize what someone goes through beyond the daily struggles.
Locally we had a terrible accident to our biggest bike activist in Chico Ca and he may be living in a chair for months but possible forever. It's ironic that he has advocated bike usage for 40 years in Chico and in his own words, he my have to rely on a van that is compatible for handicap use.
Thanks again for such a wonderful listen,
Cathleen Greenlee
My daughter,who passed away last March (2007) began using a wheelchair when she was four years old, as the result of a congenital neuromuscular disease. This bright, enthusiastic young woman was often excluded from activities other children and young adults participated in due to lack of physical access. But the greatest barriers she faced were attitudinal. Despite challenges and frustrations, she managed to complete high school and began college at a major Florida University. On campus, she discovered a mixture of attitudes from very enlightened and supportive to seemingly completely uninformed and resentful. This was not from fellow students, but her instructors and even employees of the Disabled Student Resource Center.
During her lifetime of almost twenty years, my daughter told me she never really felt bad about being a person with a disability (other than a longing to do some of the things she was physically unable to do) until she underwent a failed surgical procedure following her first semester of college that caused her to have to be trached
(tracheostomy) for more than eight months. She was unable to produce sound and speak during most of this period, so in addition to the tube protruding from her throat, she could not use her own interpersonal skills to "break the ice" and make others comfortable in her presence, or express her needs when in public. Children stared, adults looked away, most people seemed uncomfortable in her presence at the mall or other public places. For the first time ever, she told me she was depressed about her condition and being disabled. My daughter made the decision to have her trach removed (she was not on a vent) which may have contributed to an earlier death. Understanding this was a quality of life issue, we supported this decision. Twenty years of advocacy for and with my daughter has given me a different perspective. So, answer to the question of how to interact with a person with a disability is as simple as this: treat the person with dignity and respect. Do not hesitate to offer help, just because it may be declined. Individual personalities and willingness to accept assistance vary, just as they do with people without disabilities. Your SMALL acts can make a BIG difference.
while i understand the frustrations people in wheel chairs face-i have been struck several times by people in wheel chairs in stores then suffered rude comments from them in lieu of apoligies-I try to be considerate of others but it often seems they expect me to move out of thier way regardless of what I may be doing at the time-interestingly the rude ones seem never to be paralized or missing limbs hmmmmm
Hi Neil,
I'm a physical therapist who specializes in working with folks in wheelchairs. I was driving home after spending the day ordering and fitting wheelchairs for a group of nursing home patients; and there was your segment on "Rolling". I'm looking forward to watching the film. I only wish there was more in the media about those who use wheelchairs. "Murderball" was a great film that really highlighted personal stories of the disabled. I've had the wonderful opportunity over the years to work with all ages; and have helped clients from as young as 2 to as old as 100 gain independence with the use of a wheelchair. I completely understand the statement by your one of your commentators about how he enjoyed driving his manual wheelchair. One segment of my client population are elderly women who never drove a car. They are some of my most enthusiastic power, power-assist, and manual wheelchair drivers. It is refreshing to hear a film stimulating a discussion about how we can make our communities more wheelchair friendly; and how individuals can be more sensitive to how life in a wheelchair feels. Physical and occupational therapists are frequently on the frontline of these issues with our clients. I often find that my students in wheelchairs in elementary school are the best ambassadors. As the able-bodied kids interact with them and make friends; they develop an ease and comfort level that we hope they will take with them into adulthood. May I suggest a future story? Rifton Equipment is a company dedicated to making quality equipment for disabled individuals. They are an out-growth of a Bruderhof community in upstate New York. It would be interesting to profile their efforts as a community to care for the disabled. Thanks for a great show.
Strangers using wheelchairs are just like strangers not using wheelchairs. Some are friendly and say hello to a stare or a smile or a helping hand, and some are not friendly and might twist a hello or a door held open into something negative. Just like some females appreciate help from a man passing by, while others may take it as being hit on, or whatever insecurities they may personally have. No one should generalize any population. Would you want people to lump you together with EVERY person that falls under your ethnicity or gender or religion? Probably not.
I train service dogs that help people with physical disabilities other than blindness, often people in wheelchairs. As a result of this work, I have made many friends in wheelchairs. It is through them I have developed a comfort level so that I no longer see a person in a chair as being any different as myself. I have learned when and how to offer help. I am very grateful for this in my life. I get very frustrated when I see things like the handicap parking spot on an incline, the ramps too steep, things like that. We should be doing so much better.
One of the major topics that I see coming to light from this movie is the lack of education on care for the disabled in our health care system. Doctors and nurses in offices and hospitals do not get enough training to handle the special circumstances of wheel chair users.
My father spent the last 5 years of his life in a wheel chair. I believe he would have had at least 5 more, had the hospital workers had more training on caring for him as a disabled person. While in the heart center, a bed sore started from having an improper bed and not being moved often enough. In addition, instead of doing a correct transfer onto a commode (requiring an aide to lift him), they tried to have him use a bed pan that tore is thin skin further near the bedsore. They saved his life by putting multiple stints in his heart, but ended his life by creating a wound that could not heal causing him to go home on hospice a few months later. He beat the odds on so many complex problems from heart to cancer to kidney to colon just to die from a bed sore.
Please educate our health care workers on the special needs of the disabled!
Grieving Daughter
From the view of a child: When my brother was little, he pointed to a lady in a wheelchair. He said, "Look mommy!" But my mom just said, "Don't point." My brother kept saying, "Look mommy!" Finally my mom said, "What is it?" And my brother replied, "She has the same pocketbook as Gramma!"
Thanks, S. Harrison - you're right, the comment was off topic and has been removed.
My son-in-law, who is a quadriplegiac, uses a very elaborate wheelchair (he guides it through taps of his head against the headrest). At a holiday party a few years ago, a young boy of about 8 or so came up to my son-in-law, looked over this very high-tech chair, and said, "Cool wheels!" It was a lovely moment. As was mentioned on your show, if we let kids show their natural curiosity, things will generally work out OK, both for the kid and for the person using the wheelchair.
These very normal people show extraordinary courage in the face of rampant ableism. This film let me know we have a long way to go before we have a level playing field - with wheelchair accessibility.
But what I really want to know is: when is Galen's band Siggy touring the Northeast??
I have been in a wheelchair since I was years old because of Duchenne Muscular Dystrophy. People have looked away and I guess maybe I'm used to it, but it doesn't really bother me. If some one has never seen a person in a wheelchair you are uncomfortable without knowing what to do. And some people stare. Well I guess what you have to do is think about what do you do when you encounter someone different? Is it you look away because you just don't want to do with it or do you stare because you want to learn more about it? Well many people with disabilities get angry with this. Well I just understand that it is human nature and also that I am different. And that it doesn't necessarily mean they think of you as less.