The "Daniel Pearl Standard of Responsible Journalism"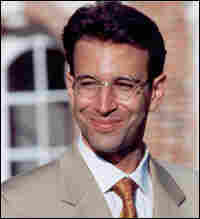 Almost six years to the day after Daniel Pearl was killed, brutally, by terrorists in Pakistan I was a bit surprised to see his father writing in the Wall Street Journal this morning (the same paper his son reported for). More than a memorial for the son he calls, "Danny," Judea Pearl explains just how much really changed that day, and not just for the Pearls:
This new twist of killing journalists for what they represent has changed the course of journalism as well as the rest of society.... His murder proved that 9/11 was not an isolated event, and helped resurrect the age-old ideas of right and wrong, good and evil. Moral relativism died with Daniel Pearl in January 2002.
And Mr. Pearl honors his son with what he calls the "Daniel Pearl Standard of Responsible Journalism:"
To distinguish true from false journalism, just choose any newspaper or TV channel and ask yourself when was the last time it ran a picture of a child, a grandmother or any empathy-evoking scene from the "other side" of a conflict.
Read his full column in today's Wall Street Journal. We'll talk with Judea Pearl today about the standard he's proposing, about the role of journalists today, and about the memory of his son, Daniel.