The Real World Meets... The Real World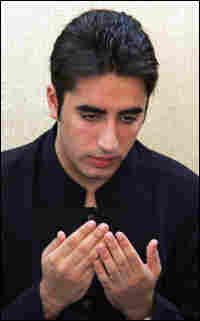 When Benazir Bhutto was assassinated a week ago, all eyes were suddenly glued on her son, Bilawal Bhutto Zardari, named heir to the political legacy at a heartrendingly young age. So young, in fact (19), that he should be more concerned with his Facebook news feed then, er...the news feed. Yesterday, Mike Nizza, of New York Times Lede blog reported on another strange confluence of social networking and journalism — in a desperate attempt to find out more about the unexpected heir, journalists went rushing to Facebook, where they found information on Bilawal, an Oxford student, under an alias —Bilawal Lawalib. That profile itself is pretty interesting — quotes from and about his mother, as well as some sadly ordinary antics for a young man who did not expect to suddenly be in charge of such a legacy at the tender age of 19. But since there was no profile under Bilawal's full name, another student made an entirely new profile — with faux quotes, pictures, and a few rather upsetting inaccuracies. Later, the imposter posted these comments, which make him sound like one of those horrible Real Worlders.

I made an account pretending to be him. I've got 44 friend requests in the hour it's been up. Reckon I'll be upto 1000 in a couple days.
It's great cos I saw the news on tv, and since this is basically the first time the guy has come into the public eye, nobody has made an account for him. So I quickly registered one, and just been addin stuff to the profile.
I've recieved loads of letters of condolences for my dead mother too! I'll post up some good ones now. Oh and a ridiculous number of hot pakistani girls added me too (some pics below).
(NONE OF THAT IS MY SPELLING. This guy could benefit from some world travel... Waziristan, maybe?) One odd element that I never would have expected to hear, is that an aide to Bilawal's father, Asif Ali Zardari, is claiming that the bogus Facebook profile was set up by the Pakistani government. (I know the ISI is powerful... but do they have a Facebook profile?) It's odd that in the end, it's nothing that dismal, just a thoughtless kid playing a prank. Sigh. I guess that's even more dismal.