Non-Traditional Casting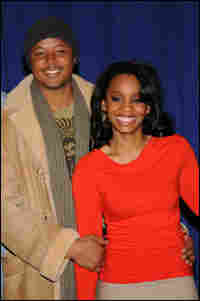 Starting next week, Terrence Howard, James Earl Jones, Phylicia Rashad, and Anika Noni Rose will star in a new production of Tennessee Williams's Cat on a Hot Tin Roof. For the first time in its history, the play will feature an all-black cast. More and more frequently, film and theater directors are using non-traditional ensembles.
In our second hour, we'll look at non-traditional casting. Have you seen a play or a movie with a non-traditional cast? Do you think it was less/as/more effective? Did you understand the play differently? Did it take on a new meaning?
My favorite Broadway musical is RENT, the soundtrack of which features a young black man singing and acting the role of Angel, described on Wikipedia as "a cross-dressing percussionist with AIDS" - no mention of race. But since I'd heard the soundtrack before I saw the show, when I sat through a performance with a white Angel, I was thrown off. A dimension seemed so be missing, as far as my experience was concerned, because I loved the soundtrack version so much. Just sharing my thoughts! Thanks. :)
I live in Ashland, Oregon and see many plays at Oregon Shakespeare Festival. There is a long tradition of color blind casting. Sometimes it works and sometime it is too distracting as it was last summer in a production of The Cherry Orchard. One of the central characters was cast with an African American women in a leading role. Her diction was so distracting I never felt the connection to a fading Russian way of life.
I watched the film version of Much ado about nothing with Denzyl Washington and Keanu Reeves as brothers. I thought it was a little weird and thought maybe in the movie it was showing that one was adopted, but they both were so great at their parts that it didn't really matter.
To the caller regarding the movie Delovely about the life of Cole Porter. The very point of the movie was that Cole Porter was a semi-closeted homosexual. The fact that there were images of Porter surrounding himself with gay men and to portray openly physically emotional experiences between men was a response to the "straightening" of movies and plays. In fact many plays and movies were altered from their original to straighten and whiten them in the first place. The broadening of casting is a good and healthy thing
Back in my day when High School and College was all black it was all black or all black; Shakespear,Rasin in the Sun, or The lottery.
Even in LOST,even though there is great mention of diversity, the main characters are still white. The same in Grey Anatomy. I'd love to see dramatic shows where the leads are not white. How refreshing would that be?