Skip to Main Content
RIP: William F. Buckley Jr.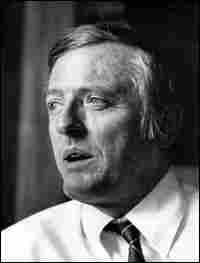 We got word today that William F. Buckley Jr., the father of modern conservatism, passed away this morning, at his home in Connecticut. In my estimation, The New York Times obituary puts it best:
William F. Buckley Jr., who marshaled polysyllabic exuberance, famously arched eyebrows and a refined, perspicacious mind to elevate conservatism to the center of American political discourse, died Wednesday at his home in Stamford, Conn.
Douglas Martin continues...
Mr. Buckley's winningly capricious personality, replete with ten-dollar words and a darting tongue writers loved to compare with an anteater's, hosted one of television's longest-running programs, Firing Line, and founded and shepherded the influential conservative magazine, National Review.
After our regular conversation with the Political Junkie, we'll talk to William Kristol, of The Weekly Standard and The New York Times, about Buckley's legacy. Did his writing or philosophy influence or change your politics?
RE: Buckley
I saw Buckley engaged in a debate/conversation at Middlebury College with the Dalai Lama in 1984 -- an unlikely pairing. At one point, Buckley asked the Dalai Lama a question that must have lasted 90 seconds. At the conclusion of his question, the Dalai Lama smiled, cocked his head, and asked if Buckley could repeat it. Buckley laughed. Though I never agreed with his politics, I give credit to his sense of humor and general eloquence.
Dear TOTN --
I understand you want to have guests on to discuss Buckley, but why Bill Kristol? He's anything but a "conservative." He promoted the invasion of Iraq, which is a radical departure from traditional conservative orthodoxy.
It amazes me that NPR still has this guy on at all. How can a person be so consistantly wrong and on every issue and still be called upon to give his opinions?
You can find "conservatives" under any rock you turn, why oh why Bill Kristol again?
My favorite Buckley moment came more than 40 years ago when he agreed to be a guest on Laugh-In. The show staged a "press conference" in which show regulars asked him questions. The best was his response to why he had agreed to be interviewed by Playboy magazine.
"Because," he said, "I wanted my teenaged son to read it." Classic stuff.
As an avid sailor, I read Buckley's books on his transatlantic and transpacific cruises, and was impressed by his positive attitude, extensive vocabulary, and passion for sailing and for his friends. When I learned from his last sailing book that one of his close sailing friends, I wrote him a brief note. Much to my surprise, I not only received a response, but a very well-written, personal typed letter. A very class act.
When I was a young girl, God taught me that being a Christian was fun and William Buckley taught me that being a conservative was fun. Sometimes I am not sure to whom I am more grateful.
WFB was a strong advocate for conservative values, small government and capitalism. He'll be missed and we'll need to find a new WFB for the cause . . . the unique individualism and self responsiblity cause that has made and continues to make America great. RIP WFB.
40 years ago, greed was not simply considered a good thing, nor was a selfish and blind adherence to self-interest.
Buckley's influence goes straight to the mindset of contemporary America. . . which i find deeply unfortunate. Intellectualism is a powerful weapon, for good and evil.