Skip to Main Content
Could A Calculator Get Nerdier?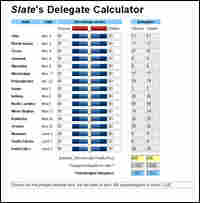 It's been an exciting morning here at headquarters. We have a new home, about eleven blocks from here, which we'll move to in 2012. This is a relief to many of us — I mean, can you imagine Neal saying, "From NPR News in Hagerstown, Maryland, this is Talk of the Nation!" Also — I only just got my commute under control. Of course, the other talk of the TOTN is also probably the talk around your neck of the woods (apologies to Willard) — another couple of primaries leaves Dems in limbo and the GOP gearing up for the general election. More on that later — we're prepping a delicious news special for y'all — but first, if you want to understand the importance of superdelegates, check this out. Slate's delegate calculator is the coolest (read: nerdiest) election tool out there. And you'll see — the math doesn't give you a Democratic candidate any way you add it up. Sigh. We're still on that long road to the conventions.