Covering Iraq: 5-Years on : Blog Of The Nation The first stories of the invasion of Iraq came from Anne Garrels, Ted Koppel, John Burns, and Hoda Abdel-Hamid... today, all four remember the war, from the invasion to the "surge".
Covering Iraq: 5-Years on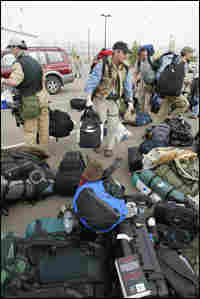 One of the first TV images of the Iraq war — which started five years ago this month — was Ted Koppel standing in the Iraqi desert. He was embedded with some of the first troops to cross into Iraq, and reported on the advance to Baghdad for ABC News in the early hours of the invasion. In Baghdad, NPR's Anne Garrels painted a picture of a city under siege as the "shock and awe" campaign began, and she stayed at her post throughout the early days of the war. For most of us in 2003, journalists were our eyes and ears in the war, and it's been that way ever since. Today, Anne Garrels and Ted Koppel, along with John Burns from the New York Times and Hoda Abdel-Hamid with Al Jazeera English, reflect on what they saw five years ago, and what they've seen in Iraq since. March 2008 is in many ways just another month in a long conflict, but the 5-year mark offers an opportunity to look back to lessons learned, and stories told, as well as to look ahead. When you think back to March 2003 and the initial reports of the invasion, what are the stories... and who are the storytellers... you remember most?