Skip to Main Content
Covering Iraq: 5-Years on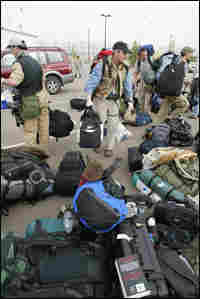 One of the first TV images of the Iraq war — which started five years ago this month — was Ted Koppel standing in the Iraqi desert. He was embedded with some of the first troops to cross into Iraq, and reported on the advance to Baghdad for ABC News in the early hours of the invasion. In Baghdad, NPR's Anne Garrels painted a picture of a city under siege as the "shock and awe" campaign began, and she stayed at her post throughout the early days of the war. For most of us in 2003, journalists were our eyes and ears in the war, and it's been that way ever since. Today, Anne Garrels and Ted Koppel, along with John Burns from the New York Times and Hoda Abdel-Hamid with Al Jazeera English, reflect on what they saw five years ago, and what they've seen in Iraq since. March 2008 is in many ways just another month in a long conflict, but the 5-year mark offers an opportunity to look back to lessons learned, and stories told, as well as to look ahead. When you think back to March 2003 and the initial reports of the invasion, what are the stories... and who are the storytellers... you remember most?
Anne Garrels is WRONG. All due respect to her opinion, but it is well documented that the extremely problematic "sunni awakening" began months before the surge. The surge didn't calm the waters.
The war may not have been good for Iraq, but It is a real boon to news reporters, especially Lara Logan, Chief Foreign Correspondant of CBS. Love her when she's delivering the news from Iraq!
Anne Garrels is in an occupied country after an invasion. She is concerned that the crime against foreigners is predictable to 30-50 minutes.
We entered Iraq because Saddam Hussein was responsible for invading Kuwait and killing many. Saddam used nerve gas on the Kurds in northern Iraq. Saddam's army kill over a million Iranians. During the US invasion, Saddam launched rockets into Israel who was not among the invading forces.
The CIA report on WMDs found that Saddam was wait for sanctions to be lifted to reinitiate his WMD program.
The corrupt United Nations Food for Oil program was undermining the sanctions.
France and Germany were ready to fold.
Our invasion was necessitated by Saddam???s aggressive behaviors.
The issues we've had controlling Iraq are similar to the issues we faced with Germany and Japan.
Has Ted's Discovery channel bought the Oscar winning documentary on rendition and torture, but have shelved it because of political pressure?
As a Dustoff 9medevac) pilot in Vietnam/Cambodia (1970) and again in Iraq/Cambodia (2004) I agree wholeheartedly with Mr. Kopel's comparisons. Also I would add that the individuals most traumatized were the innocent civilians caught in the cross fire.
why does the mass media never mention international law? - in particular, the violation of sovereign borders, the belligerent, unoprovoked attacks in which the US takes part - such as against iraq and afghanistan (yes, the crime of 9/11 was not prosecuted against afghanistan in court, as our law requires), all unprovoked attacks in violation of the UN Charter (which the US basically wrote), and thus in violation of our Constitution's article 6, by which "all treaties under the authority of the US" are "the supreme law of the land"...when the US attacks routinely (somalia last week), it has no moral basis to protest any violation of sovereignty anywhere...and it will support violations of client states (colombia's attack inside ecuador last week, read ms. clinton's support and condemnation of venezuela for merely massing troops within ITS OWN borders)...this adds to the universal perception of our government as hypocritical - yet the servile media has nothing to say about international law...
It is critical in this election year that the war remain front page news - positive headlines as well as negative ones. The war is likely to be a VERY important issue in the upcoming election given the fact that McCain is the Republican candidate. It is important that people be able to intelligently evaluate what is going on so that they can vote intelligently.
You are giving and getting a slanted view since it is a court martial offense to criticize in time of war. Also journalists who are inbedded aren't going to want to lose access.