Eat my Dust. And Vote for my Candidate!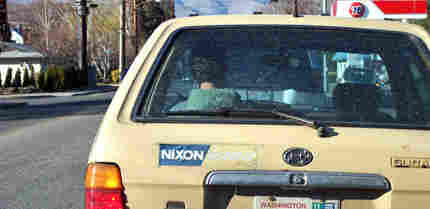 A few years ago, a friend of mine got into a fender bender. It was no big deal, really. I thought that the damage was aesthetic: a few dents here, a small scratch there. When he took it to a garage, though, a mechanic told him that the whole thing had to be replaced. Bumpers are different than they used to be, he said. They're full of new safety features and sensors. The small wreck cost my friend several hundred bucks.
Bumpers are different these days, aren't they? They're made of plastic, not shiny chrome. And what happened to those bumper stickers that used to cover them? They're gone too. Well, not entirely, but they used to be everywhere. There were joke bumper stickers. They acted as resumes. "Guess where I went to school?!" And they helped us broadcast to the world who we planned to vote for. (Or, in many cases, who we voted for two or three elections ago.)
Our guest at the end of the first hour, Patti Brown, says that the political bumper sticker is alive and well. She has been collecting them — and blogging about them — for a while now.
Do you put political bumper stickers are on your car? Do you have a favorite?
Oh yes! My sanity has depended on the bumper sticker in the past 7 years! 'Your Child may be an Honor Student, but your President is a Moron', 'Visualise Impeachment', and 'Keep down the rat population : spay and neuter Republicans','Dick Cheney Eats Kittens' and finally, the ray of hope, 'Another Gardener for Obama'.
My favorites are mine - "OBAMA 08" and "Support the troops, bring them home". I live in the deep south and have actually been "road-raged" against because of my bumper stickers.
My favorites? "Republicans for Voldemort" and "If you're not outraged, you're not paying attention."
Just one. It says:
"What would Geronimo do?"
my recent favorite bumper sticker:
"Republicans for Voldemort"
I have two stickers on my car, but the one that people laugh at as they drive by is "My cocker spaniel is smarter than your president." That one is just below my "Obama for President '08".
If someone cuts me off while I'm driving and I see a political bumper sticker, I can't help but attach that feeling of irritation to the politician on the sticker.
One of my first political memories was of my father yelling at the television, incensed by Nixon. Yesterday, I had to pull over and call my Dad on my cell when I saw a bumper sticker that read... "I never thought I'd miss Nixon." We shared a great laugh over it. It's sad and soooo true!
I saw one the other day that looked like the W sticker from '04 election. As I got up closer I could see that the W was for Worst ever!
Amen to that.
Do we know why bumper stickers not as popular in other countries? I am in france right now and I have not seen many bumper stickers here.
I put a James Webb bumper sticker on my car when he first announced his run for Senate. The number of people who asked me how they could get one or how they could support him was astounding. I had never had a response to a bumper sticker like this in twenty years of having various conadidates name on the back of my car!
My bumper sticker: "You voted for Bush and all I got was this THERMONUKLAR apocalypse"
Dream bumper stickers:
1. If your opinion fits in this space, it needs more work.
2. My belief > Yours
3. THE CAPS MEAN I'M YELLING!
I was a first-time voter in the 1968 presidential campaign and put bumper stickers on our car for the first (and only) time. My husband and I put a Eugene McCarthy sticker on our VW beetle after he came to our campus one day and spoke to a college audience. The following Saturday, after hearing Robert Kennedy speak to the same audience, we scraped off the McCarthy bumper sticker and replaced it with the RFK sticker. Shows you how shallow we were at the time!
It doesn't take a study to know that there are more bumper stickers on VW Jetta's (usually bio diesel) than on a BMW... duh!
I always have stickers on my car - and I'm one of the few around here - Lexington SC. Because of my anti-Bush messages I was "keyed" many times in the past few years, been shouted at in parking lots, and been flipped-off while driving. In the South people are generally too polite to talk politics, so I shout my political leanings quietly.
I have a bumper sticker on my 1988 Ford Ranger. It says "Madison in '08". Yes, I'm a history teacher.
Michael Seaman
The comedian Demetri Martin has a joke that all bumper stickers say the same thing to him "Hey, lets never be friends". I find this joke to be in line with my thoughts on bumper stickers. People insisting others know their views is not something I find worthwhile. As far as politically useful, they are more likely to disuade someone from voting for a candidate. Imagine you get cut off by someone with a "Bush" sticker, Bush is now associated with the jerk that cut you off.
I wont put bumper stickers on my car because, as a liberal in Kansas, I don't feel safe having it on.
I am very proud of my Obama bumper sticker. It's my first political sticker and I feel that in this particular election cycle, my preferences are openly stated in this very conservative community. When I see someone's car with the same sticker, I immediately feel a sense of connection, and not so alone.
The bumper sticker on my car says "Hillary 2008 - More Village, Less Pillage"
We have the solution to the sticky bumper: a bumper magnet. We buy white sheets of magnetic paper, and write out own political statement. For a long time it was "Impeach Bush" (before that became a popular sentiment) and now it's "Indict Bush". We display that along with a yellow "Support Our Troops" ribbon.
I had been given a "Bush's Last Day in office 01-20-09" sticker and it took me months to put it on my car. I put it on, on a Monday in July. On friday, I was rear-ended and in the repairs, lost the whole bumper and the sticker with it. that is the end of stickers for me!!
I actually had a bumper sticker stolen from my car. I got it when I subscribed to Bark Magazine it was "Dog Is My Co-Pilot". Not sure if it was some Christian nutcase thinking I'm an athiest (I am) or someone who liked it, since I used to get a lot of compliments on it from other dog owners. So for my NPR bumper sticker is safe.
About six years ago, before the invasion of Iraq, I had a red "End Sanctions on Iraq" sticker on my bumber. One day I came outside to get in my car and found somebody used red tape that matched the sticker in order to strategically cover most of the words on the sticker so that it read "End Iraq". It did not discourage me from continuing to post political messages on my bumper.
I still sport a Kucinich sticker. I will leave it for the statement it makes. It will soon be joined by an Obama sticker. The Gore for President sticker is under the Kucinich sticker. It's just too depressing.
Living in KY as I do, I do have some misgivings about sporting a pro-Obama sticker. I'm not so sure my car wont be keyed! I intend to anyway. I'm quite sure there are many here who share my support for Obama and will be encouraged to do the same.
I wanted to comment about the type of car and if it had stickers or not. While I don't put political stickers on my car (because of where I live - I'm a lot more liberal than my neighbors) I do put stickers about other things: my kids schools, sports teams, places visited, etc. I drive a minivan and wanted to personalize it among the plethora of other minivans out there. My husband drives a Mercedes sedan - no stickers at all.
I live in Florida, and when Jeb Bush was governor, I had a sticker that read "Don't blame me, I didn't vote for him, his brother, or his daddy". I bought 30 copies, and when people would ask me about it, I'd pull one from my glove compartment and give it to him/her. It was a blast.
I don't put bumper stickers on my car, for two reasons.
First, where I live my politics are pretty standard, so I'm not likely to be educating anybody or giving them food for thought -- even if they disagree with me, they've already heard and seen plenty of arguments for my position. And there's an element of preaching to the choir.
Second, I don't like slogans. I'm suspicious of any statement short enough to put on a bumper sticker. This doesn't apply to so-and-so '08 bumper stickers, of course.
Political bumper stickers just seem like so much noise to me. I like ones that make me think. Favorite lately:
Separation of Church and State Would Have Saved Jesus.
I'm not seeing all the information in the media for people to make intelligent choices. Since the media is controlled by their sponsers you will never get the important info.
So I have bumper stickers. "Jail Bush/Cheney for war crimes, coruption, treason" "Greenpeace" " Corporate accountability" "One Nation Many Faiths"
On Easter Sunday I wished I had the bumper sticker "Who would Jesus bomb?"
I have a Democrats Make Better Lovers sticker and I always get a comment from gas station attendants, one asking if he got one, would a certain woman he knew go out with him (not me). I also received a negative note on my windshield in response to it. That scared me!
Why is it that liberals appear to be more interested in sharing their beliefs through their bumperstickers? Do they have more to prove? Do they need to convince us that their candidate is better due to a printed name on their bumper rather than the candidate's policies? Do they need to convince me that they are good people because they support the rainforests and hate our president? Are they covering up all of the dings on their car from when they react to other cars wiht bumperstickers?
I'm sure that they never get offended at other people's freedom of speech though. I bet they honk, wave and thumbs up at other cars with bumperstickers like, "Hug a Marine", "Freedom isn't Free", Proud parent of a soldier", or I'm a recruiter."
Lastly, has academia really run out of ideas and will support master's level studies of bumperstickers? I understand that it is a journalism school, but- nothing better? Nothing? Thumbtacks?
As an artist I have made a series of satiric political bumperstickers. Some examples--
> "with liberty and justice for oil"
> "Allah Bless America"
> "why do they hate us (now more than ever)"
They were included in one of my garage installations-- placed on a truck bumper wired to the yard fence. Installation views and closeups of the bumperstickers can be found on a virtual tour at--
http://www.afsnitp.dk/galleri/garageography/
(takes about 15 sec to load; then go up the driveway to the left, before entering the garage).
I love bumper stickers and I never ruin my car's bumper with them. I simply put them on a magnet and attach the magnet to the car. This way if I change my mind I can easily change my message...
I have one bumper sticker on my car, it is for the local NPR affiliated radio station. I am always fascinated with bumper stickers as defining personal statements and how they span from the cute "I Love My Dog" to the intense pro-life and anti-abortion statements. There seems to be such a bold contrast between the seemingly harmless and the potentially provocative, and I wonder if one consciously challenges others when publicly voicing strong opinions in this way. Also customized license plates on expensive cars are often like stickers on less expensive autos. I once saw slick sports car with a customized license plate saying something like "PAYED 4".
My cars are generally so nondescript that I need some kind of bumper sticker to help recognize them. Luckily, I haven't been the victim of road rage since the Vietnam War era, when a guy with the ubiquitous "America--Love It or Leave It" tried to run my husband off the road, undoubtedly owing to our "America--Fix It or Forget It" sticker. A few years back somebody peeled off my "These Colors Don't Run...the World." I'd like to think it was to put it on their own vehicle. These days it's "God Bless the Whole World, No Exceptions," and that has generated two positive comments left on my windshield.
My favorite political bumper sticker is "Make the scary Republican go away!" (who I consider to be our current President). It made me laugh, and then it made me sad because I feel the same way.
Our aged minivan is held together with bumper stickers. Most have to do with land conservation groups, but along with "1-20-09 Bush's Last Day" and one for Obama, there is the one stuck on by my 9-year-old football fan son. Though he was crushed by the Super Bowl result, he supports the Brady/Moss ticket in '08. We just spent a weekend in DC and I was struck by how out of place our car looked: nary a sticker in sight. In four days I could count on one hand the number of them I saw. Any theories on that?
I'd rather be fishing, but here I go...
Regarding wealthy folks with BMWs and Mercedes'---no they don't generally have bumperstickers --however, personalized (vanity) plates are another issue.
While I'd assume they were Republicans due to the cost of the car, also, more telling, is the redundant and moronic display of "creativity". Why the guy in the red Mercedes needs to have a vanity plate that reads "RED MERC" or the lady in the BMW has a plate that reads "MY BEEMER" is astounding!! They even have plate frames indicating the make of the car too! It makes a person (me) want to slam a bumpersticker reading: "ME WITTY" on the pretty shiny bumper right under the clever license plate. The clever plates vary, but usually the color, make of the car, or "MY", are involved. Just like bumperstickers ---these plates provide a great service in weeding out people that I wouldn't want to occupy my time with.
favorite stickers:
1) Who needs Social Security when we have Homeless shelters and food pantries?
2)If voting changed anything it would be illegal.
3)DIEBOLD; We vote so you don't have to!
4)1/8/09 END OF AN ERROR!
5)The only bush I trust is my own!
6)Annoy a conservative; work hard and mind your own business!
7)Proud American, ashamed of my Government!
8)Morality cannot be legislated
I got my first political bumper stickers this year. I have Republicans for Voldemort and Raikkonen/Massa 08.
The above bumper sticker comments show that because of their bias NPR has lots of liberal listeners and viewers.
I'm not into bumber stickers. In my entire life I've had only one and all it said was "GWB" (just initials) and an insane Kerry supporter keyed my car during the last election. I'll leave the bumper stickers to the demagogues and the haters.
If I could make up a bumper sticker and have it printed it would say, "Love Anyway."
i have that equality sign bumper sticker, the human rights campaign logo. i think that one isn't inflammatory but is still worth showing off on my little car.
If you want to see Republican bumper stickers, come to Montana.
My Jeep tends to be a shameless promotional tool for rock climbing gear companies, more than politics. I see a lot of hobby related stickers on my commute. The political ones tend to be out of date already. :)
On my truck: "In times like these may I suggest blaming the Republicans" and "Impeach Bush-Torture Cheney" One I saw recently: "The road to Hell is paved with Repulicans"
I'm rather fond of "Well behaved women seldom make history."
My favorite: "This war has been brought to you today by the letter 'W'."
I have two window decals one on each of the rear-side windows. One is black & white, the face of Bush - it reads "Pants on Fire"
The other is Obama 08.
I also printed (in the largest font possible) Obama... Folded the paper into thirds (close to bumper sticker size) and put it inside my back window, tucked in just a bit and held in place with a little tape. :)
I, too, have "God bless the Whole World. No Exceptions". My other bumper sticker is a favorite: "When the Power of Love Overcomes the Love of Power, then the World will know Peace". I won't put anything too anti-Republican or Bush on my car. I already get warning stares for these, and I'm afraid for the safety of my cats in this ultra-conservative county in Texas.
well, after reading all those posts, i've come to the conclusion that democrates seem to be pretty negative people lol.