Elevator Pitch : Blog Of The Nation The ins and outs of the elevator...
Elevator Pitch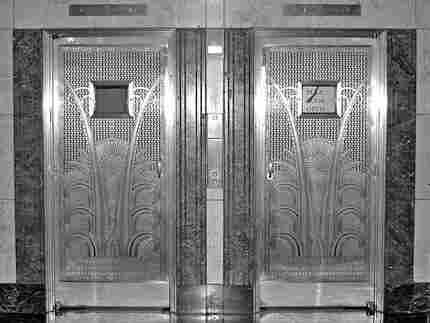 Elevators have always seemed fancy to me. I know that sounds ridiculous — we've probably all been trapped in a decidedly humble elevator before — but when I was eighteen, and freshly moved to New York City, "elevator buildings" seemed the height of luxury to me. Those big loft elevators still seem gorgeously Carrie Bradshaw. The thing I really like about elevators is their slow curtain-up feeling — when the doors start to slide, you get to make your entrance, and people on either side of the doors have a second or two of suspense. Surprise! It's a handsome stranger. Poof! It's your landlord — to whom you owe the rent. Plus, that tiny little intimacy bubble with your neighbors or co-workers — trying to figure out what's poking out of their purse — is such a magical little moment. It is a total fantasy of mine to fall in love with someone I met in an elevator.* (That's not a euphemism — though I'm sure I've given a lot of really silly smiles to pleasantly confused members of the opposite sex. Spare me your Scarlett/Benicio comments.) In any case, The New Yorker has a lovely and extensive cultural history of the elevator — and we'll be talking to Nick Paumgarten about it today.
*Sigh. I fell in love on a train, which is sort of like a horizontal elevator.