Steven Kurutz on Tribute Bands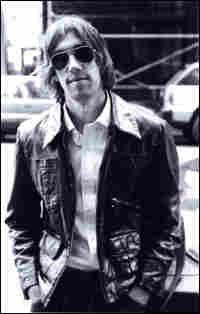 I've been a big fan of rock music since high school, so I'm familiar with cover bands, and bands that cover the odd Zeppelin or Who song in their sets. But I have to admit, I was blithely unaware of the phenomenon of tribute bands... until now. Author Steven Kurutz has written a new book, Like a Rolling Stone: The Strange Life of a Tribute Band, which chronicles the experiences of two Rolling Stones tribute bands, the Sticky Fingers and the Blushing Brides. He'll join us in our first hour to share the stories; but first, these words from the man himself:
If you spend your teens being obsessed with rock music, as I did, you end up reading a lot of rock and roll books. I'm thinking here of classics of the genre like Stephen Davis' Led Zeppelin bio, Hammer of the Gods, or Dance with the Devil, Stanley Booth's account of the Stones' '69 tour. My book, Like A Rolling Stone, is sort of a quirky addition to the genre. Instead of touring with rock stars, I toured with musicians who pretend to be rock stars. And it wasn't just "Mick" and "Keith" who were in character. In a strange way, I played my own role — the "rock journalist" who's given open access in exchange for writing it all down and adding a dose of mythology. In short, I was the tribute version of Davis or Booth and that meta quality made for an interesting reporting experience. I remember one day in particular. I was driving to a gig in North Carolina with Kevin Gleeson, who played Keith Richards in Sticky Fingers and rarely broke character. Somewhere over the Carolina border my front tire blew out. There I am pulled off alongside the Interstate, the traffic whizzing by, watching a guy dressed exactly like Keith Richards jack up my car. The surreality of the moment — and many others like it — didn't escape me. Sure, Stanley Booth got to hang out with the Stones and witness Altamont. But did Keith Richards ever change a flat tire on his car? - Steven Kurutz
Check out Steven's pictures from his time on the road with the Sticky Fingers, after the jump.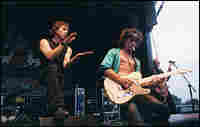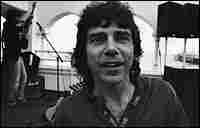 Can the melting of the ice caps essentially shift the world's weight distribution, changing not only weather but where our land masses are ... shifting of land masses on the planet?
I saw Sticky Fingers at the "Mock Rock Festival" in Sacramento, CA. It was totally awesome. For a mere $20, I saw The Eagles, Rolling Stones, Led Zeppelin and Pink Floyd in one concert. Well, sort of. I actually saw Hotel California, Sticky Fingers, Led Zeppagain, and Which One's Pink. AWESOME!
Is Steven familiar with the tribute band, The Faux Four, made up of some great studio and tv musicians?
Hey Neal Conan...why are the topics you choose for the program "Talk of the Nation" revolve around your OWN PERSONAL life experiences? For example, when you bought that expensive stroller, you made it into a topic of the program and now this topic is related to your interest in your teen years. Why don't you change the title of the program to "Talk of The Conan"?
A whole book about mediocre musicians making mundane choices that drag the entire culture down.
As if it needed more drag on it. Tribute bands? Is there a more pointless endeavor? Why, yes, there is -- writing about it. Surely there's nothing lower: "Meta quality?" "Quirky?" "... I was the tribute version of Davis or Booth..."
Oh, no. This is really very bad.
But wait, there is a substrata -- a radio show that will devote an HOUR to help sell the book that will in turn promote bands that encourage audiences everywhere to wallow in their nostalgia and tune out musicians that have anything even remotely new to say.
Thanks. Keep it up. It wasn't nearly bad enough for musicians out here.
very nice interview. Good luck with the book.
I saw Sticky Fingers in 2005 with Tom Guerra on lead guitar (went to college with Tom) right after seeing the Stones, and Ive gotta admit that Sticky Fingers were a better rock and roll band.
Cant wait to pickup the book.