Skip to Main Content
Tough Landings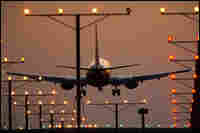 If you've been in an airport recently, you've caught the faint scent of overcooked coffee and desperation (it smells sort of sweaty). The grounding of flights due to safety concerns, airlines struggling to stay afloat (what a weird metaphor), and rising prices have all combined to turn the airport into a sort of anxiety dungeon. So today, we're going to take you on a tour of the 2008 summer airline soap opera — from company offices to the tarmac — and what it means for your vacation.
I just skip flying because I'm not made of money. It's easier just to take trips that can be easily driven to. Sure, Branson might be considered for old folks and families, but the money I could spend flying I can now use for food & some shows.
Is there ANY chance that trains could make a comeback!!!
I often wonder what the impact of developing an alternative transportation system - train travel - would do to more honestly provide competition for the airline industry. Wouldn't TRAIN TRAVEL for more local/regional travel - if adequately developed - provide a true competitive alternative for the Airlines.
This is the least efficient form of travel as far as energy is concerned. And it is fast becoming the least efficient in the time spent getting somewhere. I say drive local. Fly international.
Under free market deregulation, fares are so low the carriers are all in bankruptcy or near-bankruptcy. How does this make any sense? Doesn't this show the free market doesn't work and that fares have been too low (like very low interest mortgages?)
I disagree with the idea that passengers get what they pay for. Passengers often have little choice. For example:
- they are often employees who's bosses pay only economy fares.
- or they have no choice if US or Northwest are the only ones serving a route.
- or the fee differential between low cost and economy versus business is too steep and serves only the purpose of serving two distinct markets: business versus non-business.
If it can be done for livestock, then good service (compensation for delay or for waiting on tarmac) can be regulated.
Can someone tell me why it costs (roundtrip) about $970 from Detroit to Des Moines on Northwest, but I can find a flight from Detroit to Nagoya, Japan for $1370 non-stop, and under $900 with one stop (roundtrip)?
Since consolidation leads to oligopoly and monopoly, the antithesis of free markets, and this has happened in every industry, and we have a free market health care system which is free market and atrocious , the larger issue is can you name a country or economy in which "free markets" have worked as advertzed?
In addition to the airfare, the passenger pays three government fees: excise tax, passenger facility fees and security fees. How does the annual total for these fees compare with airline profits? Second question: Do the bonuses for airline CEO's and other administrators get paid even in the face of losses for a given airline?
Spirit Airlines DID NOT file for bankruptcy as just reported on the radio broadcast. Thanks.
What a segment...an industry shill spouting disconnected arguments to favor the market. Neil cracked me up with his statement about mass transit....when was the last time Neil rode Greyhound or even a non-transit train ride? Given the global warming issue, couldn't Neil have raised the point that maybe it is the best thing that people fly less?
I'm wierry of the Bruce Willis, John Wayne concept people have of war in this country. Any chance a sword can be turned into a plow or an object of torture can be turned into a object of worship (the crucifix) I'm all for it.
Why not take the flag raising symbol and turn it into a cause that is going to require unity rather than strife?
The focus on individualism, running a marathon, sailing around the world in a balloon, climbing Mt Everest all use a tremendous amount of energy, time and money. For what? If all this focus on reaching some mystical, personal goal were invested in something like building houses for the homeless with Habitat for Humanity, or something with slightly less navel gazing.
If fuel costs are the main reason that the cost of airfares are going up then how far away are we from a plane that runs on alternative fuel? I had heard that planes that are more energy efficient are already in the works.
As a flight attendant for 33 years (4 airlines, 1 application) I have taken numerous pay cuts to keep my airlines and the public flying. This last one of 40% has been the worst. The airline employees are the ones who subsidize the low fares (and they are low) the flying public enjoys and we also subsidize the huge bonuses the exec's get for running airlines into bankruptcy.
To answer Brad's question: airlines know very well their consumers' willingness to pay.
On a more serious note: few people appreciate how the business model works: many "bad" airlines tend to run a hub-n-spoke model. They use short local flights to feed the big planes that fly long distances between hubs. This tends to favor an industry shake-out: if Continental were to merge with United than they can economize on the short (hub-feeding) flights. They can also offer more attractive flights between hubs, for which customers are willing to pay more. A large cost of the hub-n-spoke system is coordination: all short flights should feed the hubs in a timely fashion, passengers hate to wait.
Low cost airlines serve routes were the cost of coordination is very high: these are the marginal (point-to-point) routes. Low cost airlines may benefit from a merger of large airlines, as they reap any crumbs left as collateral damage from a merger.
Therefore, whether the mergers are a bad thing, we will see ... a low cost airline may start offering a cheap route from, say, Detroit to Des Moines, that is, if Northwest were to drop it.