Skip to Main Content
Elite Gymnast: Jennifer Sey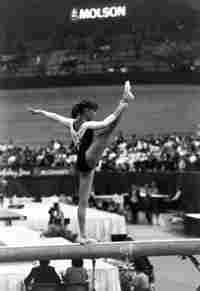 Perhaps because I'm a tall girl*, I've always been transfixed by gymnastics competitions on TV. Sure, the men's feats of endurance on the rings are amazing, but it's the tiny girls and young women who fly through the air with no regard for gravity that make my jaw drop in wonder. Even more, I read the fierce determination writ plain on their faces (Kerri Strug, anyone?) and just marvel at the training and discipline that keeps them aloft.
The average girl (moi, for example) just can't do it. Jennifer Sey did, and in 1986 she won the US National title, and then quickly burned out. All the things I've wondered about — wow, gymnasts are so small (do they eat right?); wow, their coaches seem so tough (do they treat the girls ok?) — she lived. And while she's careful not to malign the sport as a whole, she goes there — eating disorders, abusive coaches, suspicion of inappropriate relationships between male coaches and young athletes... the works. And, in spite of it all, she still counts her big win as one of the best moments of her life. With an experience like that, she's got a great story and a bit of a cautionary tale for parents of today's young athletes... leave your difficulties and triumphs about guiding your kids through sports here, plus questions for Jen.
*OK, definitely not that tall, but tall. And yes, I've been gone for a few weeks and am technically still gone — in case you're interested, I'm doing some super exciting multimedia training, and I will appear on a new blog, talking about all that, shortly. I'll keep y'all posted!
As a Level 10 competitive gymnast and a Division I Collegiate gymnast for five years, I can attest that this sport demands the most out of one's body. But, listeners and readers should be aware that not every girl involved in gymnastics suffers from an eating disorder or abusive coaching. In fact my involvement in gymnastics and caring coaches saved me from a threatening bought of anorexia. They let me know I needed food to keep my body able to do these incredible skills. Also, gymnasts today do not struggle as much with eating disorders because a lot of the look of the sport has changed. Girls are now expected to be incredibly strong and there is not the same expectation for incredible thinness as there is absolute strength and perfection.
As a chiorprcator who works with current and past gymanast, I would like to mpoint out that there is a high physical price to pay at any level of gymnastic training. The demands placed on the young developing bodies leads to injuries that will last a life time. The back bend today will result in early degenerative changes and pain later in life.
I didn't compete in gymnastics (I was hooked on ballet instead, and indeed that sport has it's own issues), my sister however did. The competitive drive that was nurtured in my her as well as her self-image was greatly hindered by her years of work pushing herself. She is left with scars of her efforts both inside and out. These show up harshly in her inability to move into what she measures as success or to find a kind self-evaluation physically as an adult woman. She suffered years of drug addiction and sadly continues to struggle to find balance between inflated criticism and reality.
I enrolled my 5 year old son in gymnastics at our
local YMCA. This was the beginners class and there
was no room for a goofy, slightly round boy who liked
to run, jump and roll around. The class was run by
older girls from the Y's gymnastics program and I
could see the disdain on their faces for the little
kids who were in the class just for fun. Needless to
say my son didn't enjoy the class but still likes to
run, jump and roll around. I hope those teenage girls
have some joy in their lives, too, but it sure didn't
look like it when I sat in on the class.
I am so sad to be listening to all of the negative talk about gymnastics. Our experience (for the last 17 years) has been nothing but positive and my daughter is a high level gymnast, now competing for one of the top colleges in the nation. I think Ms. Sey needs to realize that the sport has come a long way in the last 20 years, and she admitted herself that she is not involved any longer. The POSITIVE life lessons learned from gymnastics are invaluable. As is true with all sports, a parent needs to be their child's advocate to make sure that they are getting the best training, mental as well as physically. My daughter has loved the sport since she was 4 years old and is a happy confident young woman. I couldn't be prouder of her!
I believe it is important for people to know that I trained with Jennifer Sey, the author of 'Chalked Up' and I don't agree with many of the things she describes in her book. I will say that in the 80's all top gyms were very strict on what the gymnasts ate and how much they weighed. Today the Parkettes National Gymnastics Training Center, led by Bill and Donna Strauss currently monitor the weight and overall physical condition of the gymnasts maybe once a week. The Strauss's and its coaching staff have made so many positive changes over the last 20 years and it a shame that Jen did not take the time to research and reveal any of of this in her book.
Parents need to take a more active role in their kids' athletic careers, no matter the sport or the culture of competition in a given sport. If getting to the top requires certain measures with harmful physical, mental or emotional consequences, parents owe their kids to make the responsible decision to back away, until their kids are old enough, 16? 18?, to make those decisions as a family. JS says her parents couldn't have stopped her because of her innate competitiveness. And she said knowledge about eating disorders was minimal in the 1980s. Even still, they saw her biting holes into her cheeks, pulling at her cuticles. These behaviors are obvious signs of stress. A look at boys sports and use by kids as young as 11 and 12 of "performance enhancing" drugs and supplements is one of the more extreme but valid illustrations of this problem. Some parents have turned a blind eye to it. Others have encouraged such behaviors. Parents need to put their pride and egos aside and recognize when to say 'no' to their kids or their coaches and realize that the long-term investment, as with many parenting decisions, is worth it
As a disclaimer, I started gymnastics much later than most, and never competed at the elite level. I did however compete in Levels 6 & 7 during the same period that she did. My own experience with gymnastics was very positive. When I started taking lessons in my pre-teen years, I was on the verge of anorexia due to peer pressure to be thin, barely eating more than once a day. I can honestly say that gymnastics saved me from the disease, because it increased my self-esteem, and taught me to value my ability to achieve things I never thought I could. Yes, the sport is extremely competitive and demands perfection and this pressure can be definitely compounded by Type A personalities (which I am) and demanding and unrelenting coaches (which I did not have). In fact, my coach served as an incredibly positive father figure in my life to whom I will always be grateful. I think everyone's experience is different depending on the gym they attend and who coaches them. Indeed, I did witness very abusive coaches that were very hard on their girls during meets. I think parents just need to be cautious about whom they have their daughters train. There are good coaches out there that are not abusive to their pupils. I would say that if your child is interested in gymnastics, that you should encourage it. Because it teaches your child a lot of positive things, including self-discipline and self-esteem, which I still benefit from today. Parents just need to be aware and involved in their child's training and eating habits. I also encourage you to enroll your child in yoga, which will help your child prevent injuries and balance out the strain that gymnastics indeed places on your body.
I have just finished reading Jennifer Sey's book. It was very interesting. I believe people only see the end results(when kids win the gold medal) The coaches are all happy and hugging them(ie Bela)but what sacrifices do these girls have to make. I honestly believe that Jennifer Sey wasn't saying all coaches treat all gymnasts that way or that all gymnasts have eating disorders, instead she wrote what she went through. It was a very good book and I hope Jennifer goes on Talk shows and discusses this.
I have been a gymnastics coach for over 12 years and I was a competitive gymnast for 7 years. Although I know that some gyms and coaches can be abusive that is definately not the norm. It is the resposibility of the parent to be aware of what is going on in the gym. Don't be afraid to ask questions and watch practices. Gymnastics can be an incredibly rewarding sport. As with any sport it is demanding at a high level.
I was a gymnast from age 4 - 18 (I'm now 31) and competed at level 10 for several years. My feelings about the sport go both ways. I suffered from significant emotional problems for many years after I retired from the sport thanks in part to the fact that I didn't have the opportunity to mature socially having spent my youth in the gym. I felt a great loss of identity when I quit and didn't have the tools I needed to rebuild myself until years later. I also have a body that feels more like that of a 60 year old's at least and I fear what age will bring.
What I do have because of my years as a gymnast is a dedication to being healthy and fit and great confidence when it comes to my strength and ability to master physical challenges. Who can manipulate their body in space better than a gymnast?! My handstands are now an endless source of entertainment for my friends and yoga classes.
There are some wonderful benefits to pursuing a sport to a high level, but it can certainly take an emotional and physical toll as well. I think most important is to make sure young athletes know that their level of participation in the sport is purely optional and that giving it up is completely acceptable if that's what they choose. Even if they spend 25 hours a week at the gym, parents and coaches ought to help make sure these girls have balanced lives so that, if they do decide to retire from the sport, they know there's a whole world of things for them to do out there, that it's possible to be good at something beyond the sport.
Recommended sports for ex-gymnasts? Rock climbing! Yoga! It was such a joy to find gymnastics-like activities that an aging body can enjoy...
i agree with jennifer sey whole heartedly. i was an elite level gymnast for 3 years and i still suffer with horrible bouts of anxiety because of it. one distinction does need to be made clear, and that is elite gymnastics is a completely different ball game them level ten or any other level of gymnastics. people who completely disagree with jennifer sey have obviously never competed as an elite gymnast recently.it is extremely difficult to be an elite level gymnast without training fourty plus hours in the gym and being homeschooled. to be a successful elite gymnast ones body needs to be extremely small and slender as well. i was weighed probably tree times a week and there was the constant pressure to lose weight. my parents and coaches were especially brutal as well. ive been cursed out, had things thrown at me and had to endure conditioning that i would consider as nothing short of torture. gymnastics is an extremely beautiful sport but one needs to realize what these gymnasts go through to reach the highest levels of the sport.
Jennifer is speaking to her experiences. Everyone's experience is different. Alot of what she speaks to
regarding control,favoritism & negative coaching techniques still go on today. But when you 're the only gym in town........... My daughter just quit the sport as a lvl 8 and Jen's book was timely to put it all in perspective. The chosen few work with the fear of falling out of favor and the non favorites - well typically they can only take so much and up and quit. I commend them for their strength to know when enough is enough. Thank You Jen for an insightful, moving memoir of your life.
I have to wonder why it is at all relevant what the "mother" of a gymnast has to say on this topic. Please leave this blogging to the athletes.
I am an older ex-gymnast who also happens to be very tall. I competed in the '70's and remember when the balance beam was wood, and when the introduction of fiberglass bars changed everything. As a Class 1, working toward Elite status, I experienced the advent of Eastern European influences on the Southern California gymnastics scene. Before long, my coach was weighing us weekly, and my extremely lean physique was often warned to lose 2-3 pounds. At the time, I thought nothing of it. I could be thinner. I could be better. As a result, I believe, of the constant pounding, contorting and starving, the joint pain I suffer is remarkable. My love/hate relationship with gymnastics will always be a part of my life .
I am in the process of reading "Chalked up' and I can't put it down. I am very moved by Jennifer's account of her past. I believe she was much too young to be permitted to choose the life of an elite gymnast. How could she have known, at such a young and inexperienced age, what that life would really be like? Children have lots of fantasies. That's where parents come in - to provide a reality check and protect their children from potentially harmful choices. I believe it takes great deal of courage to go back into one's painful history and take an honest look at what was happening. I believe Jennifer was seriously traumatized. I also don't believe Jennifer's book is sour grapes or has anything to do with falling short of some dream. She accomplished a lot. I believe it is an honest, heartfelt account of the reality of her experience. The reality of a young girl caught in a trap because she wanted to please the adults around her as all children do. A reality that none of the adults in her life recognized. On some unconcious (no parent would consiously expose their child to such abuse) level, I suppose because they had a personal agenda, they chose to ignore the signs that Jennifer was suffering. I don't believe that the degree of hard work and sacrifice, necessary to becoming a competitive gymnast, are necessary for anyone to learn, no less children. Nobody can convince me that competive gymnastics are not abusive and cruel treatment, even with coaches who are encouraging. I wish Jennifer luck recovering from those years. At no point in her book did I get the feeling she was mean spirited or lashing out. I believe the angry reactions she's getting are from people who are afraid to face the truth about their own experiences. I hope Jennifer gets loads of support and admiration for what she's doing.
Jennifer Sey's book, "Chalked-up," apart from being beautifully written and purely entertainting, is courageous, informative and relevant to the current state of all youth sports today. Because sports are no longer an integral part of the majority of school curriculums, they are only available as extra curricular activities. Some families haven't the resources to emroll their children in extracurricular sports. Those children are automatically excluded from the benefits of organized sports. Without the structure of a physical education sports curriculum, where all children participate on the same level as their peers, there is no regulation as to how sports are structured or the progression any given sport takes. Parents and volunteer, and privately paid coaches, who are often highly subjective in their approach, are now in control of youth sports. This has introduced an unprecedented degree of competitiveness, fueled by the egos and of ambitious parents and volunteer coaches. Additionally, it has opened a new and unregulated market of coaching services. Many of these coaches are self-proclaimed sports gurus preying on the vulnerablility of parents who know even less than they do. Fierce competitiveness in youth sports is far more widespread than at any other time. At one time there weren't enough elite youth athletes to affect the rest of the youth sports community. Now, there are enough children competing at a higher level, that, over time, the majority of children are eliminated from the playing field. Many families feel pressured to compete at this new level for fear that their child will fall behind in their skills. A fear not unfounded, as there are are studies that show that by high school, most students cannot compete in sports. Most children can't compete with students who, for years, have been receiving coaching on club teams, playing on traveling teams or have been privately coached. I think the power structure, namely, parents and coaches should re-evaluate the goals of youth sports. What do we want for our children? Do we want a select population of our children to rise to the highest ranks and compete amongst eachother or do we want all of our children to be fit and healthy and benefit from the lessons sports teach? In my opinion, it is important to nurture a lifelong commitment to, and love of fitness and health, discipline, team work, personal betterment and improvement of skills related to the sport. I think competition should be held at a reasonable level. Perhaps teams in basketball and soccer, for example, could have skills competitions instead of scheduled games, until the children master the basic skills. Perhaps not everyone should receive a trophy. This would bring back a realistic approach to competition. Perhaps children can also be awarded for things other than winning. For example, a team could award the child on the team who has best demonstrated loyalty to the team; another award could be for the child who shows the most sportsmanship, the child who is the best team player could get the team player award, etc. These sports values could be standardized in order to eliminate parental and coach subjectivity, and so that the children understand what kind of behavior constitutes success with regard to these values. These are just a few ideas. In general, I think we should slow down, make sports accessible to all children, hold children to a standard of excellence in a loving, supportive way; providing the structure, guidance, tools, encouragement and limits that will enable them to learn healthy values that they can apply to the rest of their lives. In addition to developing a healthy relationship to their bodies, children could be learning discipline, how to make a unique contribution to the team without dominating the team, how to accept failure graciously, etc. I am grateful to people like Jennifer Sey who have the courage to expose truths that most people don't want to face; to risk the wrath and osttacization of those who feel threatened by the truth. We need, and should cherish people like Jennifer Sey, if we are to evolve into a more intelligent and compassionate species.
As the parent of a former national gymnast who trained 5 - 6 days per week and underwent food restriction and humiliation which only recently has she been able to tell me about. It is ironic that even in 2008, I have heard that the Karolys do not see any reason for solid nutritional consultation for these young girls training in Texas for the Olympics. How about psychological support as well? What are they afraid of?
Though my daughter did not train with the Karolys, she and her hard working teammates were berated by their coaches for any gain of even one pound of weight and not only abused laxatives extensively but participated in group vomiting. The coaches belittled the girls in front of the other teammates when parents were not present. The coaches ignored those girls who gained weight. This type of abusive behavior can cause life long emotional issues because these are young girls who do not have the strength to handle it. My daughter still suffers from remnants of an eating disorder and the abusive treatment.
Jennifer is a very brave young woman and is certainly not alone in her experience. Until a gymnast is at an elite level, this belittling does not occur, because the coaches do not look at the gymnast as potential national competitors and do not put the same pressure on the lower levels. In fact -often the higher level gymnasts are coached by totally different coaches. I believe that every coach of young girls of ANY sport and every parent of children with athletic prowess should make this book a MUST-READ. The lessons are clear. USA gymnastics must take a stonger stance in regulating these practices which have been so harmful to so many developing young women. Of course - this is not everywhere - but I assure you that from our national experience - it is more rampant than the public would like to believe.
If Jennifer's book can help produce some changes in the gymnastic community, Jennifer will have helped many upcoming athletes. Many thanks to this courageous young woman!!