Skip to Main Content
Snooping 'round NPR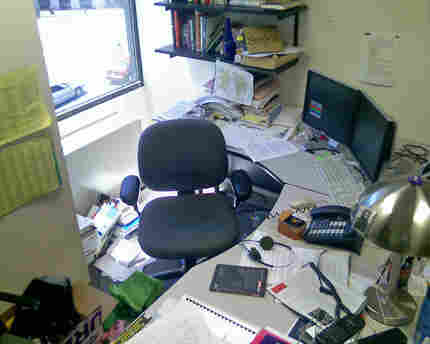 My colleague, Ashley Grashaw, familiar to regular readers of this blog, isn't here today. She's in sunny California, lying on the beach, drinking milkshakes with Lauren Conrad and Heidi Montag (separately, of course).
So, in her absence, I'll use her half of our office to introduce Snoop: What Your Stuff Says About You. The author of the book, Sam Gosling, is an associate professor of psychology at the University of Texas. If he visits someone's house, apartment, or cluttered desk (see above), Gosling is able to piece together a profile of that person. It's pretty impressive.
Take a minute and look around. What is on the walls? What is on your desk? And what do you think all of that stuff says about who you are? And if you have any questions for Gosling, you can leave those here too.
And if you want to play profiler, look at the image above. Tell me, what is Ashley like? When she gets back to town, we'll have her tell you if you're right or wrong.
I think that a corollary to the topic today (what your stuff says about you) is reflected in the choices we make about what we take with us when we move. I recently moved from a large suburban house to a lovely, but more modest city apartment. What I have chosen to bring with me (beyond the practical necessities) would tell you quite a bit about me, I suspect. The most important items for me have been books, photos and CDs, and even those have been winnowed down. The ones I've kept often have great sentimental value as well.
And I believe strongly in the William Morris philosophy: Have nothing in your home that you do not know to be useful or believe to be beautiful.
I am someone among many women who craft, and I like to do many different types of crafts though I am not an artist. My craft room is filled with books for self improvement, different how to craft books, vintage beads (I make jewelry)
I heard once that surrounding ourselves with this type of clutter creates an insulation from the busy-work of life?
I'm listening in the kitchen but ran to the office to tell you what is in my kitchen: a picture of my granddaughter on her first bike, my dog, dog dish and toys, boze radio, CDs: new Mark Knophler, Bach: Goldberg's Variations, Lucinda Williams, a bowl of fruit that I intend to eat this week, empty wine bottle, dirty dishes in the sink, microwave/cat bed, toaster oven. Ingrediants for tonight's dinner of cajun chicken. Next week's exam to review before I print it. A Mammy cookie jar that my mother gave to her mother.
Ironically, I'm listening to "Talk of the Nation" today as I'm totally cleaning out and reorganizing my work office (I'm a university professor). I'm hoping that what my office says about me this time tomorrow will be very different from what it has said about me for the past semester! P.S. I can empathize with Ashley and her office...
I LIKE TO PEER INTO PEOPLE'S HOMES WHILE RIDING BY AT NIGHT I'VE DONE IT SINCE I WAS A CHILD. WHAT DOES THAT SAY ABOUT ME? I LOVE TO SEE WHAT THE INTERIORS LOOK LIKE AT NIGHT. OF COURSE I CAN' T DO IT WHILE I'M DRIVING, BUT I ALWAYS FIND MYSELF DRAWN TO PEER AS A PASSENGER. P.S. I AM ALSO A MEDICINE CABINET PEEKER THOUGH I WOULD NEVER ADMIT IT IF ASKED.
My office is full of antiques, collectibles, stained glass lamps, eight taxidermies (stuffed) chickens, books, stereo/radio/vcr, comfortable chairs, assorted rugs on top of carpet, computer, scanner, typewriter, copier, fax. I love my office - it reflects my home and much about me.
My children like to tease me because I do not like clutter. I have original art, but not so many objects that a horizontal space is covered with them. In fact, I love space. I will only place at most three objects on any horizontal surface. Even my choice of furniture is towards pieces where the wall can be seen through it. I don't display photos, or any of those items that can be bought in a card store.
In my early adulthood, I noticed a shift from careful decorating and filing to "survival" decorating and filing. The more life I had, the more "stuff" I had. I started storing with minimal organization and discard.
Later on, as an adult with passed parents on both sides (spouse and mine), we've added some things.
Actually,I feel I'm storing much of my parents' and in-laws "unthrowables", but for us to toss the stuff is perilous! What is interesting/troubling is what I and my husband put into storage,as if to "discover" later. Again, it feels quite overwhelming!
My office has a large sand tray collection of objects filling many shelves. Although these are for my clients, my own shelf space has an array of my personal objects.My style is contained chaos. All objects are in their place and deliberately placed. Humm, what does that say about my psyche?I wonder!
Sam Gosling's work in this area is brilliant and much more profound than many people realize.
Our firm - Sentient Architecture - is the architecture firm he refers to on this segment...and we know from almost a decade of experience with real world clients that personality and "subconscious" motivators have an incredible impact on the decisions they make about their homes.
It is not just a matter of what your relationship with your living space means about your personality.
Much more profound is the realization that you are so powerfully enmeshed with the place you live...and that many of your decisions about your home or office are not conscious.
In our "real world" design projects, when we are using the Truehome Workshop Sam was talking about here, the fact that we collect psychological information, data about values, lifestyle, personality and emotional responses to features of architecture or furnishings; makes a very real difference to how effectively our clients can spend their money and get the results they want to create.
We are very honored to have been included in Dr. Gosling's book, and hope people realize the issues he is writing about are much more profound in the "real world" than most people realize.
If you think this is bad, you should see my bedroom -- disaster area.
Thanks for this, grumps. Thanks. I guess I'll just have to put up a pic of your immaculately clean desk and let people dissect what that says about your personality. :-)
PS, can we all take a moment to appreciate the "sexiest" sign on the shelf...
Whoah. Well it's a sign of someone who's busy, hard working and is the 'sexiest'. Love ya Ash!
By the look of Ashley's office, I can't tell whether she's coming or going. Typical. I do think that Ashley has made friends with clutter, in fact, I'd say best friends! She's right, you should see her bedroom...or TRY to see her bedroom. The floor is invisible due to piles of... I'm not really quite sure what? Every hair and beauty product fills her bathroom counters and sink area. Indiana Jones himself would be hard pressed to find any given object on any given day. However, in spite of the mess, Ashley has always been able to focus and clutter does not impede her wry wit, which is just one of the reasons that I am proud to have her as my (messy, yes) daughter.
- Ashley's mom
Ashley is organized. I bet that she knows exactly where everything is. If one were to tidy up her office space while she was away, it would be less helpful than if s/he had let her continue to work in this apparent messiness. Two computer monitors indicate that she is able to multitask -- that is, she is able to research CNN while she updates her myspace page or facebook profile. Judging from the "Sexiest" cardboard sign, those updates consist in the uploading of new self-portraits. However, this is not to suggest that she is a ditz. The stacks of books behind her chair suggest otherwise. Of course, this assumes that she has read them and is on to the book left face-down on the desk. Finally, the low-back swivel chair suggests that the tip-top rungs of the corporate ladder have yet to be climbed.
I clean houses for a living so I get to play this game everyday. I have cleaned for a lady periodically over the last 4 years that I have never met. I have no idea what she looks like but I can tell you all sorts of things about her based on her books and magazines, product slections, prescriptions, music, and art...even the mail on the hall table, receipts on the floor, etc. I have found that in the majority of households of couples, whether gay or straight, one is messy and one is neat.
the radio link on this page doesn't work and I would like to hear it
You're right, Gail - thanks for noticing that. I've sent a note to some folks who should be able to help, and I'll comment again here when it's fixed.
All fixed now, Gail - hope you enjoy the show!