Court Rules for GTMO Detainees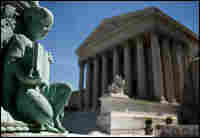 There seems to be agreement that this morning's Supreme Court ruling is a very big deal. At the same time, there's also consensus that the decision means very little for the detainees themselves. (The Court ruled 5-4 that foreign terrorism suspects at Guantanamo Bay do have the right to challenge their detention in U.S. courts.)
This is the third time the Court has ruled against the Bush administration on issues related to the treatment of prisoners. But, while the decision means that detainees can challenge their detention in federal courts, Justice Anthony Kennedy made clear that even if a court decides to set them free, any release order would depend on national security concerns. And as SCOTUSblog pointed out this morning, the decision leaves more issues undecided than it actually answers:
That's very, very big news.
But as far as I can tell just yet, the Court did not reach the two even more important questions:
1. Whether the Constitution applies to detainees held outside GTMO; and
2. What the substantive standard for detention is: "It bears repeating that our opinion does not address the content of the law that governs petitioners' detention. That is a matter yet to be determined."
At first glance, it would appear that although the decision is momentous, there are other important things that it does not do:
It does not speak to whether GTMO should be closed (although it basically undermines the Administration's principal reason for using GTMO in the first place, which was to keep the courts from reviewing the legality of the Executive's conduct).
Nor does it affect, in any dramatic sense, possible military commission trials - with the important exception that it invites the defendants in those trials to raise constitutional defenses, such as under the Ex Post Facto Clause.
I won't pretend to understand every aspect of this decision, but I suspect our SCOTUS buddy David Savage does. He's the Supreme Court reporter for the Los Angeles Times. We'll also hear from attorneys on both sides of the arguments. What questions do you have about the Court's decision, and what it means for GTMO and for the so-called war on terror?