Pot-Luck Weddings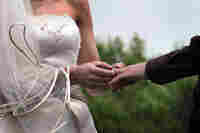 If you sit within fifty feet of my desk — or this blog — you know that I'm planning a wedding. Hilariously, this thing is not till 2009, and yet it's sucking up energy like I'm having a kid. Amazing. It's like producing a huge radio show with a thousand etiquette land mines that periodically blow up in your face. You'd think I'd be better at both those things.
All that aside, ToTN's human-whispering behavioral guru Amy Dickinson noted something odd about weddings lately. Maybe it's a result of a less-than-rollicking economy, but she's received a lot of letters lately from — or about — folks who are registering for money to pay for the event itself. Sort of like buying your own fish, chicken, or steak for the reception. Have you received this kind of an invitation from anyone during this (interminable) wedding season? If so, how do you feel about it? What's the difference between registering for just plain moolah, and registering for new china?* And listen in tomorrow for Amy's no-holds-barred wedding advice.
*Side note: I am doing neither.
Love is between people, marriage is between property.
The wedding is an event which marks the transition from two people to common property.
One of the most beautiful and eccentric weddings I ever attended was my cousin's 5 religion (Jewish, Cherokee, Christian, Quaker, Budhist) covered dish wedding. The food was spectacular and the atmosphere amazingly family and warm -- despite a drizzily downpour.
10 yrs ago this December Ed and I had a pot luck wedding. This was a later in life, second marriage for both of us. Pot lucks were a common occurance at the church where we said our vows, although this was the first for a wedding celebration. We did request "No Gifts Please", just your love and a dish to share at the pot luck afterwards in our fellowship hall. We had a band and champagne, and everyone had a good time. I was very happy with this, and would recommend a pot luck wedding for anyone blessed with a second marriage. You don't need gifts, just your family, friends and their love.
It seems fairly shallow to me - not to mention a bad omen for future happiness. If you can't keep your wedding within your means, how do you expect to keep your finances under control as a married couple? People have a real sense of entitlement about this - a sense that "I deserve" to have this big, glamorous wedding.
Nonsense! I've been to many expensive weddings, due to the fact that I used to work in catering. I've seen hundreds of 300-guest-plus weddings, and the people at them never seemed to be any happier than those I've seen at more informal gatherings. In fact, the smaller and more private gatherings generally seem to be more about sharing the couple's joy with close friends, and less about showing off the couple's cash, potlatch-style.
Just the fact that there is an entire profession, people who work every day as wedding planners, is indication of how neurotic and perfectionist so many people have become about this event. There's another hint - if your upcoming wedding is so complicated you can't handle the planning chores by yourself, it's too complicated!