CD Love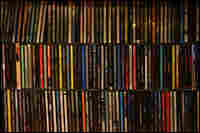 I'm having the hardest time breaking up with my CD collection. Every time I move, packing up the CDs in perfect stacks so that when I unload them they stay in order is one of my major tasks, and the unload's even trickier — do I remember my master plan, and pull the discs out correctly? The placement of the towered shelving is always one of my first decisions, and I'm not even some crazy audiophile with thousands of albums. As everyone switched to MP3s, though, I found myself clinging to the artifact. And as much as CD sleeves pale next to gatefold LP covers, they still mean something to me. I know exactly the texture of the paper used for Perfect From Now On. I know how some sleeves — Whip-Smart comes to mind — smell waxy. And I feel acutely disappointed every time I open a CD that has a simple page, printed only on one side, inserted in the cover. Even though I have to constantly cull my collection to make room for new music (for whatever reason, I refuse to buy more shelving), I keep buying the actual hard copies of albums. I'm trying to get on-board with downloading music, though. It's less expensive, more environmentally sound, and less space-consuming, true. I had a long conversation Friday with one of NPR's music geniuses, and after our conversation about music I just had to hear, I told him, "I'll download the Bon Iver in the morning, I promise, but I also know I'll forget every other record we've talked about so you'll have to remind me." It was my way of forcing myself into pressing "Buy" instead of standing in line at Best Buy. Sure enough, I did it. But I don't feel good about it. I don't feel like I really own the music, even though it's sitting on my iPod, and I can even see the cover art. Plus, I have an old-school fear of my computer freaking out and losing all my music — what then? Have you switched to buying MP3s instead of 7-inches and CDs? Have you struggled with it? If so, what convinced you to do it?
I am with you, it is very difficult to let go of these rows and rows of cds. I am not too savvy with the whole downloading experience yet either. Which makes me sound as if I am 75 but I am only 27. I like the concrete cd in my hands with the information they wanted you to know inside the case. An additional problem is that many of the cd's I have were bought in days where I had to carefully select what was worth spending my money on. My sister and I saved up our change for weeks to buy our very first cd, Hangin' Tough. How can you trade that tangible experience with entering credit card information on a screen?
Sarah,
So far the only music I buy in MP3 format are singles or certain songs. When you don't want the entire album, that seems to be the way to go these days. But what has me hanging onto my CDs is simply the sound quality. A MP3 is, in reality, a sightly downgraded digital copy of a song. If you had to convert the MP3 into another format in the future, it would be like using a paper copy machine to make a copy of a copy, with the ensuing poor results. MP3s are fine for the car, on the go in an iPod, or for simple listening. But for really hearing the music, give me the CD version.