All That Glitters Is Not...Silver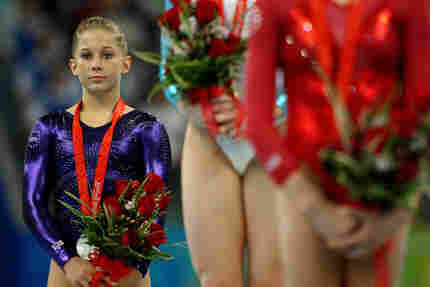 So you've won gold — good for you! You've won bronze — well done, you're a medalist! Silver.... eh... meh. Silver is the slighter sister of the medals, that somewhat middling ground that damns with faint sheen. A new study out of Cornell studied the reactions of medalists and found that silver medalists at the Olympics tend to compare themselves against athletes better off than they — while bronze medalists do the opposite, and compare themselves with people who did worse. Today, we're talking about why second place is so hard on people, and we want to hear from you — if you've won silver, or second, how did it feel?
I know all about this feeling. I'm still bitter that Trevor Sheeley beat me out for high school valedictorian by .0001 of a point. No one knows what a salutatorian is.
As the youngest child of six siblings, I see this dynamic on a regular basis.
So often I have seen my older sister feel a sense of being "second guessed", or "left out" in the family news, gatherings, or discussions. I being the baby have always had the baby card to play and therefore anything I fell short in was allowed whereas the older 2 brothers have always had a "winners" aura about them regardless of any failings or successes they carry out in their lives.
Thankfully we are close but we have never kept it secret from one another where we all fit in to the "rankings" of our children.
When I succeed I always seem like even if I didn't do my best to get there I feel like can simply be rewarded for "doing my best".
In the sixth grade, I had placed second in a science test competition for 4-6th graders. The first place was the high favored to win. What made this memorable was that I was one correct question from earning first and winning the prize to Space Camp. I was disappointed about not making it to Space Camp, but I was happy that as a female I placed higher than all the boys save for one at my school.
There appears to be a gender difference in the disappointment with second place. The one female caller was undaunted. Any comments?
I think the good Doctor overlooked a major fact of sports. In a lot of events, espically team sports when you place 3rd you have won your last match as oppossed to 2nd where you have just lost your last match. for example if Canada plays Mexico in soccer for the gold and lose they will be awarded the silver metal but still have the sting of defeat, however if the USA plays China for the bronze There last match will be a win to recive this medal. So the Gold and the Bronze winners on stand on the platform after wins but the Silver team has just lost the game of there life. I think this may a big factor in the Silver blues therory