Juicy, But Rotten : Blog Of The Nation Anonymous college gossip websites -- is there any redeeming value?
Juicy, But Rotten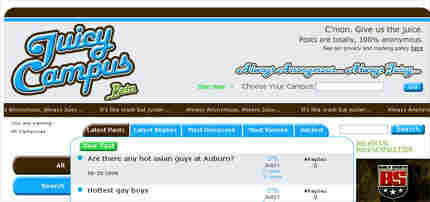 Anyone who's ever shopped at Forever21 knows that kids can be heartless. I've stood in dressing rooms and gasped at the incivility that passes for "gossip" these days. I hate to be a cranky old broad — but it literally makes me long for the old (yes, first season) Kelly Taylor. She may have been bitchy, but at least she had a heart.* Kids these days (YES! That just happened) have devised a new way to torture each other — anonymous gossip message boards. "100% Anonymous!" screams the JuicyCampus website — and with no one taking responsibility, the posts become more and more vile. Racist, homophobic, and rampantly vicious rants against women proliferate — and the more schools try to tamp them down, the more the kids are drawn to the bile. Is there anything socially redeeming at all about this stuff? Is it just sanctioned bullying? You can ask Andrew Mann, who set up his own message board site, CollegeACB. Otherwise, prove me wrong if you can — can you have a good experience on these things?
*Of course then, the producers punished her for the next nine seasons with two rapes, a psychopathic roommate, and that dude with the eyebrows.