Hillary's Big Moment: Are We Post-Gender?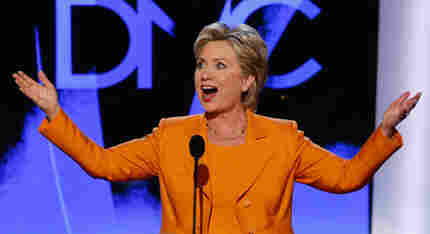 Last night, Senator Hillary Clinton spoke at the Democratic National Convention. She threw her full support behind Senator Barack Obama, and appealed to those among her supporters who still feel resentment and anger about her failed bid:
I want you to ask yourselves: Were you in this campaign just for me? Or were you in it for that young Marine and others like him? Were you in it for that mom struggling with cancer while raising her kids? Were you in it for that boy and his mom surviving on the minimum wage? Were you in it for all the people in this country who feel invisible?
For some, Hillary's speech was a persuasive call to unite with Obama supporters. But for others, it still might not feel like enough. Today, we're joined by four female powerhouses: Farai Chideya, host of NPR's News and Notes; Susan Faludi, of Backlash fame, who recently wrote an op-ed for The New York Times titled, "Second-Place Citizens"; comedian and co-creator of The Daily Show, Lizz Winstead; and co-founder of Third Wave Foundation, Amy Richards. We'll talk about reactions to Hillary's speech, whether her message extended beyond Denver, and generational splits within feminism. We also want to talk about historical context. This is a unique moment in history — Senator Obama says we're in a post-racial era, past the battles of the 1960s, but are we beyond gender, too?
And we want to hear from you — what does Senator Clinton's candidacy mean for women's rights and feminism? And are we headed toward a post-gender society?