The Worm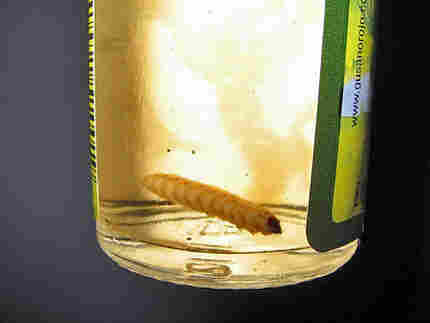 Perhaps surprisingly, I can readily recall the first time I drank mezcal, "a Mexican liquor distilled from the fermented juice of certain species of agave."
At a late-night party, in a small apartment high on East Hill, in Ithaca, New York, my friend George produced a half-full bottle of the stuff.
One of his peers, a grad. student in creative writing, had thrown the bash. She had transformed her abode into a cantina of sorts, complete with corridos, twinkling lights, and mole. Packed into that place, on a particularly cold night, we almost forgot that we were in upstate New York, where snow was still falling, late into spring.
I was fascinated by the bottle — and the worm, therein.
"You going to eat that, George?!" I asked early on.
"Maybe," he said. "It goes to the guy who finishes the bottle."
Over the course of several hours, we passed the mescal around. It had a great, smoky taste. I'm not shamed to admit that I worried the last swill would be mine. In fact, it was.
I thought the worm would be chewy, flavorful, maybe salty. It wasn't. I assumed it would pack an especially strong kick. It didn't.
This morning, I was amused to read an article in The New York Times about a mezcal renaissance in New York. (Is it just me, or is there a renaissance for everything in New York?)
Mezcal suffered from its association with college binges on cheap mass-produced bottles, the ones with the agave worm in the bottom. (The worm, actually a larva that can infest the agave plant, is mainly a ploy to help sell lesser mezcals and — sorry, spring-breaker — is not hallucinogenic.)
Rest assured, this public radio producer can't afford the good stuff, which, according to The Times, costs upward of $50 per bottle. For more on the worm, check this out.