May 6th Show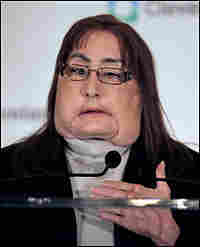 Political Junkie
In this week's political junkie, Ken Rudin talks about the politics of the President's Supreme Court pick, consequences of Senator Arlen Specter's switch from Republican to Democrat... from his new party, and a look at Detroit's new mayor. And of course there'll be a new t-shirt give-away for today's trivia question winner.
What's Your Dream Job?
At the beginning of this year, Tourism Queensland lauched a "Best Job in the World" campaign for people around the world to compete for the chance to add "caretaker of an Australia tropical island" to their resume. Well, you can stop sending resumes... the position has been filled. But does exploring the Great Barrier Reef really sound like the best job in the world? If not, let's hear a better one. At the end of our first hour, give us a description of what would be your dream job.
Face Transplant Patient: "I'm Not A Monster"
Connie Culp has made news headlines as the first American to receive a face transplant. While the reconstructive operation is groundbreaking, few truly understand what it's like to live with severe disfigurement. In our second hour today, we'll hear from people who were born disfigured and who have become disfigured. And we'll talk about the psychological and social effects that are linked to disfigurement.
What's Your Home Worth?
The drop in home prices has left some 20% of U.S. homeowners "underwater", or owing more on a mortgage than their house is worth. One bank tore down 16 new houses rather than try to sell them. Other cities report an uptick in demand. At the end of the hour, we'll ask listeners to be the reporters. What's happening in the housing market where you live?