September 24th Show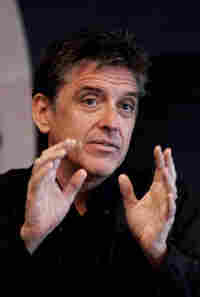 Mandatory Health Insurance
One of the most controversial proposals of the health care overhaul bill, currently in the Senate Finance Committee, is the one requiring people to have health insurance. Right now, Massachusetts is the only state with that requirement, so guests will evaluate how it's working there, and how it could play out on a national scale.
Ender's Game, The Comic
Orson Scott Card's award-winning science fiction novel, Ender's Game, and his subsequent book Ender's Shadow, have now been turned into comics, released by Marvel. Card joins us to talk about the adaptation, and science fiction writing.
Craig Ferguson Is American On Purpose
Late Late Show host Craig Ferguson digs deep into his past for his memoir, American On Purpose. The comedian's story is funny, sure, but also delves into darker territory, with tales of bad breakups and alcoholism.
Peter Sellars Directs Othello
Philip Seymour Hoffman stars as Iago, and John Ortiz as Othello, in Peter Sellars' production of Othello. The conceptual director promises a multicultural, modern take on the classic .