Botanizing in Hawaii
It's all-Kauai all week on Talking Plants where the subject is Hawaiian native plants. So get comfy and start streaming Kaua'i Community Radio (it plays Hawaiian music all morning, though some dj's are decidedly better than others) and let me say, Mahalo! for listening.
I'm just back from a week botanizing on Kaua'i with a pretty remarkable cast of characters, whose stories I'll be telling later this year on Morning Edition. No reason for you guys to wait, though, since these are plant people you're gonna want to meet.
First up, the guy below in the orange cap, Ken Wood, who climbs mountains, jumps from helicoptors and dangles thousands of feet in the air to save plants from extinction. His story, tomorrow.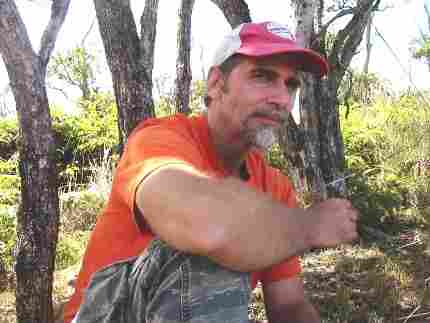 What a great website. It almost makes me want to get on an airplane to go see the various gardens.
I was surprised that one of the gardens isn't in Hawaii - it's in Florida!
(I guess Florida makes more sense of a tropical botanic garden than Maine or Alaska.)
This artical makes me proud to be ken woods daughter. <3 <3 I love him so!
In 2005 I drove around a Miami neighborhood looking for what I believe was the Florida branch of the NTBG (it's called the Kampung I think) and when I found the place it looked like an abandoned landscape with a fence around it; no sign, no people around, place locked up, nothing even in the mailbox! Disappointing.