The Little Green Orchid That Could
On behalf of all your chlorophyllic friends here at Talking Plants, Happy New Year!
Now I don't mean to twist your arm, but what I'm going to tell you about field botanist Steve Perlman and his search for Platanthera holochila is likely to make a whole lot more sense if you listen to the Morning Edition feature.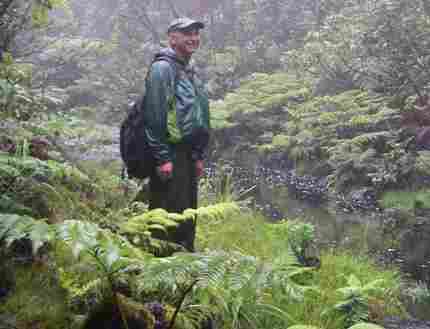 It wasn't a very big plant, maybe 20 inches high. The chances of spotting it were absolutely nil. But Steve Perlman of the National Tropical Botanical Garden had seen this rare orchid years ago, before it was dwarfed by knee-high shrubs. So it wasn't entirely miraculous — but it was pretty damn impressive — when he found it growing the middle of a wind-swept, fogged-in swamp.
His timing was perfect; the orchid was ripe for picking. So he carefully removed a couple of pregnant pods for safekeeping, each filled with hundreds of dust-sized seeds.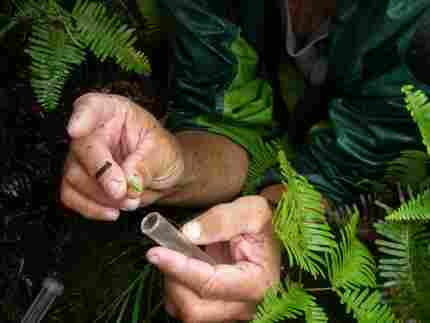 This fringed orchid was the last of its kind on Kaua'i, and previous attempts to propagate it had failed. Since there could be no certainty that the orchid would live to see another September, the seeds Perlman was collecting this day were crucial to its survival.
One of the main reasons this particular orchid survived was because the enormous bog it was growing in was pig-proof. No lie. Hawaii's wild pigs are like living rototillers; one of the only effective defenses against them is some very serious fencing.
The next day, Perlman shipped this vial of seed pods to orchid specialist Larry Zettler, professor of biology at Illinois College. (Think: Larry, Larry, he's our man, if he can't do it, NO ONE CAN).
And now, through the magic of radio, you can Be There! when he gets the package.
About six weeks after receiving the little guys, Zettler e-mailed Perlman with good news, saying, "in a nutshell, this has not been an easy orchid to work with, but I am much more optimistic." I wrote to Zettler just the other day. Here's his response:
Hi Ketzel. We sowed the seeds that Steve sent us and they are in incubation. At last check, the embryos appeared OK. Platanthera species in general take considerable time in vitro, especially without fungi, but I'm becoming more convinced that this should be our option with this extremely fastidious species ... I find it ironic that my research with fungi may be taking a back seat with this species in favor of the asymbiotic technique which I had little faith in for the terrestrials. But that's how science sometimes works.
In other words, after intensive work growing terrestrial (ground) orchids in different fungi typically associated with the plant in the wild, Zettler's coming to the conclusion that he might have better luck not using any fungi at all. His findings seem to be consistent with a recent breakthrough in orchid growing at the Atlanta Botanical Garden (beware annoying little "chirps" at this site!).
So will the little green orchid that could ever grown on Kaua'i again? Chances are pretty damn good, given that there's not a more delicious spot in the world to set down roots if your idea of a very good time is relentless wet, muck and rain.
According to your report, you trekked across 3 miles of planking that was laid through the swamp? What effect does that structure have on the ecosystem? How many endangered critters were displaced in order to build the path?
Bill, if I remember The Ultimate Kauai Guidebook correctly, the Alaka'i "swamp" trail's planking was originally laid down at least a couple of decades ago.
It is wonderful to find such treasures! However, I believe that until the resulting plants are analyzed there is no way to tell what pollen was used to form those pods. Let's keep our fingers crossed!
Bill, I can tell you from experience that the boardwalks,which are built to mitigate existing thigh deep muddy "game trails", combined with feral pig removal, alien plant eradication and fencing are the best immediate management activities required to save Hawaii's incredible bogs and montaine wet forests.
I'd like to thank Steve and Ken wood for their decades of field collecting that now supplies rare plants for the exciting reintroduction work we do on Molokai; AND for facilitating my rescue after a near fatal fall while we were collecting endangered plants together on Oahu in 1998, they save more than Hawaiian plants!
:-)
I listened to the report on David and Lida Burney Jan. 2. Lida is from Carteret County, NC, and I'm the editor of the local paper. I'd love to give local folks a link to your site so they could read up on the Burneys' project. Please advise. beth@thenewstimes.com
The boardwalk was built between 1992 and 2000; most (if not all) conservationists I know on the island want it repaired. Few (if any) would support taking it out, and most (...) are thankful that it's there. If nothing else, because of the boardwalk you can see one of the few places on the island that are still dominated by native plants.
As Wili says, whatever activities went into building the boardwalk had infinitely less impact on the environment than forcing people to slog through the mud - and even tourists would do that, as it's the way you get to the Kilohana lookout, arguably the best view on the island.
If you're concerned about preserving native wildlife, burn that copy of the ultimate guide (it hurts to think about the acres of critical habitat that have been damaged because of that book) and consider a volunteer vacation to help eradicate the invasives: Go to www.krcp.org. They do everything from back country camping expeditions to maintaining records of the number of kahili gingers and strawberry guavas they've killed.
Or consider volunteering at NTBG (www.ntbg.org). Many volunteers there work in the greenhouse propagating the seeds that Steve and Ken and Natalia and Bob (and others) collect in the wild. Or they help in the outplanting of the natives propagated in the greenhouse.
Ketzel, your piece on NTBG comes on our coldest day of the year. So we are enjoying the orchids and fern pics and longing to go back to Kauai.
Hey, with fronds like that, who needs anemones?
I've noticed that many (if not most) Platanthera species, and the closely related and debated New World Habenaria species are self-pollinating. The pollinia are placed close to the stigmatic cavity, and self-pollination occurs quite frequently. It is almost certain to say that such a rare species such as this is self-fertilized, maybe a few of the flowers selfed.
Platanthera species have been one of the 200+ species I have specialized in for more than 13 years. I have long been a believer of asymbiotic methods for species this highly endangered. I am glad that some people are finally realizing the advantages of this proven scientific method for conservation.
PSL
I do not find the appearance of this extraordinary orchid the least bit "underwhelming." To me it is a beautiful survivor, perfectly adapted to its place. In that sense, it is more lovely than a greenhouse cattleya.
With so much information on the Internet that we pass by great articles like this one. I perused this article but when I actually read it I realized what a great story this is. We will be featuring a link to this article in our upcoming newsletter.
Hi...
Just wanted to say that the National Tropical Botanical Garden (ntbg.org) is a non-profit, privately funded organization that can use your help in its mission of conservation, education, and research! The NTBG is really a great organization with locations on Kauai, Maui, and in Florida!
Help out the NTBG by making a donation, I just did!
those were the only planks for miles I would imagine.. How many endangered species were saved by these anomalous planks. Don't be an environmental pin head