For Love of a Sinkhole
Q: How many paleoecologists does it take to excavate a sinkhole, find seven previously undescribed bird species and reintroduce native plant species to a place they haven't grown in for a thousand years?
A: Depends on the paleoecologists.
Fact is, some aren't mortal. In particular, keep an eye out for the pair shown below. They were recently featured in an NPR radio report that mistakenly assumed they were human, based on their oh! so convincing paleoecologist clothing.
Closer scrutiny has determined it simply isn't possible for this couple to do as much as they do in as many places as they do it and not be in league with He Who Cannot Be Named. Consequently, approach with extreme caution should the pair be spotted one fine Sunday morning within the nether reaches of Kauai's Makauwahi Cave.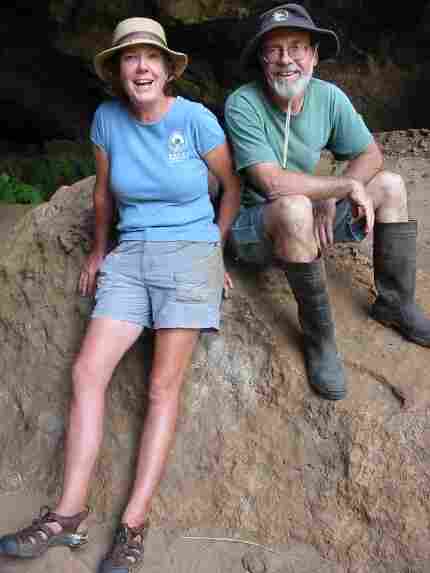 We'll post more photos shortly plus details as we gather them. Until then, be very afraid.
Do you have a pic of the palm spoken about in the story Lolu plam. I'm a palm lover and would love to see it . Thanks Shane J. Rukkila
Indeed I do, will post by tomorrow, so c'mon back.
Dave Burney and Lida Pigott showed our group of Environmental Journalism Fellows at the National Tropical Botanical their work last May. We posted our report at http://www.flickr.com/photos/ntbg. It was a fabulous experience.
Spot on, Ketzel. These two cannot be trusted...
I agree with Shane. I'd love to see a photo of the palm described in the story. Am I missing a link, so to speak?
I absolutely love the humorous tone of this blog entry's text- complete with the link to the Wikipedia "Lord Valdemort" article! I've already got about 1,000 or more reasons to travel to Hawaii one day and this sinkhole has just been added to my list. Great job!
I loved hearing about the work they are doing. It interests me so much and I would love to find out how to get in contact with them. I went to Kauai last spring in order to help with the Habitat for Humanity affiliate and I fell in love with the place and people. It is nice to know that there are those working to keep it that way and bring back the native species and hopefully get rid of the naturallized ones. Could you possibly let me know some contact info? I am a junior field biology major with a love for botany. Thanks so much.
I am an environmental science major at the University of Hawaii at Hilo on the Island of Hawaii. I have enjoyed all your recent stories about Hawaii and its plants. As you know so much of the extraordinary beauty of Hawaii is due to its unique plant species. I was particularly interested in Kauai's Makauwahi Cave project. It was exciting to hear about people restoring the land to its original flora. I am senior next year and I am looking for some experience in ecological restoration or related fields. I was hoping that you had some contacts to people, including Lida Pigott or David A. Burney or organizations doing such work in Hawaii. Thank you and keep up the good work!