Too Hot to Hike
A heatwave descended on the Pacific Northwest this past wkend and it has not been kind to people, pets and plants. Fortunately, a friend and I got out to sunny Catherine Creek on the Washington side of the Columbia Gorge before the wildflowers fried and the heat nailed us to the wall.
Although the weather's been a crap shoot here and everywhere these last eight weeks, it's been very kind to native plants. I've been lucky enough to follow the entire wildflower progression in both the pouring rain and the odd moment of shine. The shine, of course, is hell for photographs (most of you are way ahead of me, based on your Flickr pix), but I now have a camera that can take it...as soon as I figure out how to point it.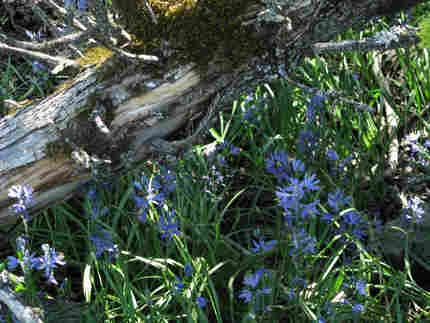 This documents my last '08 trip to Catherine's Creek. It's time to move back into the forest and get ready for the next wave of bloom. On lower elevations we'll soon be seeing Lilium columbianum, our wild orange lily. On higher elevations I'll get to relive what I've already seen.
But I count on Catherine Creek for two serious sun-lovers: purple penstemon on west-facing cliffs, and bitterroot, which turns hot rock into moonscapes of bloom.
I wish I could put into words for those of you who don't or can't hike in wild places what it means to revisit the same wild populations year after year. Even the Obama campaign can't deliver this kind of hope.