'Constraints' in Virginia ... And Get Well, Michel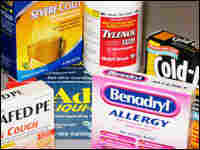 Lee, here...
Michel has come in contact with a rare form of laryngitis ... and, unfortunately, it's left her with limited speaking (and typing) abilities. Yesterday, we made the mistake of encouraging her to blog "openly" about not feeling so hot. Soon after, we received an exclusive Tell Me More pharmaceutical "cocktail." See for yourself.
Message: This program will not be bought by those with "special interests."
I guess there is such a thing as being too transparent.
Now to other news...
Since earlier this summer, we've been following the immigration story out of Prince William County, Va., a suburb about 30 minutes outside Washington. In July, county officials there voted to deny certain services to illegal immigrant residents of the county. According to a report, we're talking anything from services to the homeless to tax relief for the disabled.
Well, yesterday, the bill was shelved due to what county officials are referring to as budget constraints in actually implementing the nationally-scrutinized resolutions.
This brings us back to our summer conversation about this whole ordeal. Some say it's racist. Others say it's unfair for those not born in the U.S. to have equal access to what some might call "special" services.
But what do you think?
Should the county rethink its budget priorities by implementing the resolution ASAP?
Or, was the resolution even fair to begin with?
I'm sure, after learning of the funding barrier, someone out there is saying, "See, God don't like ugly ..." I just know there is. Either that, or, "Those darn budget constraints!"
Where do you come out on this?
Anything similar, or quite the contrary, happening where you live?
In New York, immigrants were fighting for the right to drive ... legally, that is.
Switching up a bit, if you listened to today's Wisdom Watch, you've got to love Rita Moreno. I'm quite a few generations behind her, but still couldn't help but think, "Why haven't I heard more about this woman's full career?" An Oscar, a Tony, a Grammy. Two Emmys? The woman is major. ...And am I the only guy in the room who's confident enough in his masculinity to say he loved West Side Story. I can't always get with musicals, but that one I remember enjoying. I've seen it a few times, actually. So, there!
Tomorrow... More on the jury's decision in the Isiah Thomas sexual harassment case. We have the plaintiff, so listen up...
And get better, Michel.
(Oh, and the above story about receiving a "cocktail" is fictional)
Don't make immigrants the scapegoat for our deepening economic crisis. They do dirty, difficult, dangerous jobs for our country. They deserve our support,not our scorn.
To use an old expression that my mom would often say (I'm sick & tired) of hearing that these Illegals do the jobs that Americans wont do to justify their illegal presence in the U.S. Who did the jobs in the service & construction industries before our country was flooded by illegals? They were done by Americans. And if we deport these twenty to thirty million invaders, these jobs will again be done by Americans. Our childrens education, our middle class, our health care system are all deteriorating because of this massive importation of illiteracy and poverty. No civilized country can last if this problem is allowed to persist.
Our educational system, middle class, and health care are not deteriorating because of illegal immigration. It is our own legislators who refuse to fund education, refuse to regulate business to protect the middle class, and refuse to take steps to ameliorate the health care system. It is also our legislators who refuse to do the one thing that would solve the illegal immigration problem: enforce a living wage for all workers in America. If employers were prosecuted for hiring illegal immigrants, and forced to provide living wages to legal workers, then they would stop hiring illegal immigrants in order to save money. It is the greedy employers who refuse to cooperate in providing a living wage to workers who cause problems with illegal immigration.
Ours is a country of immigrants, and has been since the foundation of the United States. None of us, except perhaps the original inhabitants, has the right to discriminate against immigrants. We should make room for all of the people who want to be here by expanding our legal immigration programs and options for working here while retaining a foreign nationality. There is plenty of wealth to go around, but we must believe that it is right to share this wealth, instead of consistently voting to give it to the richest 5% of the population.