Living the Story ...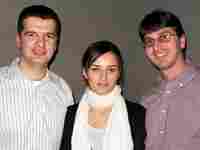 In keeping with our focus on international news on Thursdays — but doing it TMM style — we wanted to follow up on two major international stories today. But, we wanted to get away from the "experts." We believe in expertise, we believe in earned authority — folks who've taken the time to master a subject and put careful thought and attention into it — but we also believe that we are all experts on our own lives. And so, there are times when we just want to visit with people who are living the story, not studying it.
It's why we went back to Gralen Banks in New Orleans this week to ask him how he's dealing with the news that the FEMA-issued trailer he and his family have been living in might be making them all sick. And it's why, today, we went to two academics who live in Pakistan who were part of street protests against Musharraf's imposition of emergency rule ... and it's why we went to the three young Kosovar-Albanians who are studying here in the U.S. to get their take on Kosovo's move toward independence this week. Are they big names you'd know from The New York Times? No, they aren't. But they are experts on their own lives.
In this historic moment for both countries, we appreciate their take on what it feels like, looks like, smells like. We hope you agree, but we also hope if you have other perspectives, you'll share them with us.
We know, for example, that many (maybe most?) Serbs take a different view of Kosovo's move toward independence. We're interested in that perspective also. You can write to us at out blog or call our comment line (202-842-3522) if you want to be a part of that conversation.
And, just in time for the Oscars, it used to be that girls who got "knocked up" often went "away" to deal with their "situations." How did they deal with it? Well, that's exactly why they went away ... to keep from having that conversation.
But times have changed, and many more women who conceive outside of marriage are not hiding that fact, and are, in fact, deciding to keep their babies. ...
There are so many opinions about what this all means — opinions by political leaders, religious leaders, sociologists, all of us. And now Hollywood has weighed in with two movies this year, both of them critical and commercial successes; so much so that one is an Academy Award Best Picture nominee. What does that mean?
Our friend, Shawn Edwards, who keeps us up to date on all things film talked to us about the films, but we also came across a book we wanted to share with you that talks about these issues in great detail. It's called Unmarried Couples with Children. Its edited by a professor from Harvard and one from Stanford. They worked on it for years.
It turns out that Knocked Up comes closer to the reality, because couples who have kids outside marriage are far MORE likely to be in their 20's, NOT teens. And, they are, in fact, typically together as a couple at the time of the birth. Most guys don't actually disappear when they get the news. ... And you know what else? The guy is more likely to be happy about the impending arrival than the woman, which is actually true in the film. Go figure. The non-reality part of it is that, in real life, the people most likely to have kids outside of marriage are less economically privileged than Katherine Heigl and her (er, what is he?) boyfriend in the film.
Anyway, there is so much more to this story than we had time to talk about today so we will probably return to it. But, let us know what aspects of this story interest YOU ...
I was pleased to listen to your Thursday show "Kosovar-Albanians Celebrate New Independence" on Tell Me More. I am from Tirana, Albania and like all Albanians all over the world, I was very happy to finally see Kosovo free after all the suffering and oppression it experienced under brutal Serbian rule.
I believe independence is the only and the best solution for both Kosovar-Albanians and Serbs.
I also listened to your show with the Serbian students as guests. While I hope that Serbia progresses as a country towards EU integration, I believe that the Serbian people need to wake up and face the 21st century reality.
It is shocking when you hear about Serb nationalist angrily protesting against Kosovo's independence in Serbia and elsewhere, an impoverished province that most Serbs have never even been too. For many years the Serbian population has been brainwashed with the same propaganda about Albanians, and unfortunately this Milosevic-style rhetoric continues to this day in Serbia. This is the source of why we see so many angry protests by Serbs. Propaganda that portrays Albanians as ???peasant Muslims??? who emigrated to Kosovo from Albania and who are very good at "multiplying" their population and who also are a great danger to Europe because after all they are Muslim does not go well in today???s multi-ethnic societies. But the Serbs have not yet realized this truth.
While this kind of derogatory ideology is obviously wrong by any democratic and multi-ethnic standards, it also proves that the Serbs have not come to terms with what they have done to others.
The Serbs need to face what they have done: the 200,000 Bosnians killed by Serbian forces during the Bosnia war, this horrific genocide that Europe easily forgot, the 10,000 people, (most of them innocent civilians, including women and children) killed in Kosovo, the hundreds and thousands who became refugees due to Serbian aggression all over the Balkans in the 90s, the raped women, the orphan children.
The German people are ashamed of what the Nazis did in World War II even to this day. As a nation the Germans are still healing from what they inflicted in others. But the Serbs have not even come to terms with what has happened in the Balkan wars of the 1990s, at least so it seems.
Instead they are very good at playing the role of the victim who is being suppressed by Western aggressors (such as the United States). This Serbian demagogy towards Kosovo and their past will only stop when Belgrade start to promote diversity and EU integration and not nationalistic propaganda, when the Serbian Orthodox church stops interfering in the politics of a secular government and when the Serbian people get outside of the box and look at the horror their countrymen have inflected in others.
Until then, I hope Kosovo heals from its horrific past and moves on as a diverse multi-ethnic society with EU integration aspirations. MLK said ???I have a dream???. Kosovars can now say ???they had a dream???, the dream of one day being a free people.