RNC Backstage Pass: Signs of Normalcy, Star Power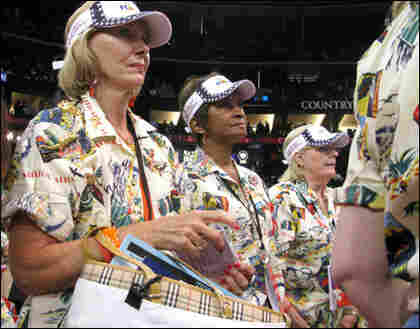 It seems that the proceedings are getting back on track. The hurricane damage does not seem to be as severe as feared, and convention organizers are planning a program tonight that will return to a more normal agenda of political speeches.
According to the wires, the convention will resume tonight at 6:30 central time (7:30 eastern time). I'm not sure where all the big name anchors who flew off to the Gulf Coast will be broadcasting tonight. I know we'll be back on the air with our NPR special coverage. (I don't know, at this writing, whether I'll be participating. That's part of the deal; things have been so much in flux that we media types are reacting to events just as the convention goers are.)
Celebrity sighting:
Reggaeton star Daddy Yankee is here in St. Paul to do a hurricane relief benefit event. The Latin Grammy-winning artist is endorsing John McCain, too. Rolando saw him and got a picture:
Teshima, I WIN!
Update:
Some of you may be wondering why I haven't talked about the demonstrations happening here in my blog posts. It's because I never saw them. Not one.
How could that be you ask?
Simple. We go to work early — so early that, when we start our day, nobody is out on the streets. Today, for example, we taped some our interviews as early as 6:45 AM. We then did a couple more interviews, grabbed a bite to eat and went over to the convention hall to capture even more perspectives ... and do a little meet and greet. By the time Rolando and I left the Xcel Center — after the session (even the truncated one) — everything was over.
I was shocked to find out that dozens of people had been arrested. I couldn't even hear my phone ringing. ... But that's why NPR has a team of people here. You can't cover everything and be everywhere. You have to have colleagues who have your back. ...