Help On The Way For The Big Three?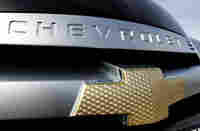 Since our broadcast today, we're learning that a financial rescue deal for the nation's struggling big three automakers — GM, Chrysler and Ford — could be agreed upon by Congress and the President by the end of today. The prospect of an automotive bailout bill, and the extent to which it could help rejuvenate a stricken economy, carries with it a grand jury verdict-like anticipation.
GM, Chrysler and Ford — and their home City of Detroit — warn of dire economic consequences if sufficient aid does not come from the government. On the other hand, there are strong opinions about a government's role as "superman" to big business in distress. Those opinions were underscored by the two not-so-warm-and-cuddly appearances by top brass on Capitol Hill, where their pleas for aid were met with tough scrutiny by lawmakers.
Today on the program, we focused on a group that you may not have heard much from in the general media frenzy surrounding the crisis: minority auto dealers. They're looking at this through the lens of their own unique concerns. Take a listen to learn more.
I also came across a report today about how the stakes of what happens next are even higher for some rural auto dealers. Check it out to learn more about yet another unique group of stakeholders in all of this.
And what about you?
Do you make your living working for, or dependent upon, a U.S. automaker? What are you thinking and hoping right now?
And, if you don't work in the industry, do you live in Detroit, Indiana or a place where automotive is primary player in the local economy? Have you noticed anything different about your economy or attitudes around town?
Tell us more ...