Skip to Main Content
Blogging The Inaugural: TMM On The Scene At Howard University
I'm live blogging here at a watch event on the campus of Howard University, a leading historically black college (and in full disclosure, my alma mater) located in the heart of Washington, D.C. Michel is posted up at the Canadian Embassy, an arm's throw from Capitol Hill.
We thought of Howard as an ideal place to virtually set up shop for a number of reasons, but mainly because it is an important connector of today to yesterday. Certainly not hindered by its location in the nation's capital, the university has made major contributions to both American and African-American history. Learn more here...
Stay tuned... Throughout the day, we plan to bring sights and perspectives from a number of angles — here at Howard, and on the National Mall — as people everywhere (not just in Washington bear witness today to a new chapter in American politics, underscored by the swearing-in of the nation's first black president.
Standby ...
10:30 AM
So, I'm posted here at an Inauguration watch event in the Armour J. Blackburn student center here on campus. About 400 alumni, students and faculty are gathered here in the main ballroom for a viewing brunch. At the front the room, a CNN feed is being projected onto a jumbo screen. The audience is definitely in high anticipation of the start of the swearing-in ceremony, which appears to be moments from officially getting underway....
10:50 AM
Bernard Richardson, dean of the Howard University Chapel, just offered an opening prayer to bless the occasion here (the sound from CNN was muted, of course).
Also (from keeping one eye open during the prayer), it seems the Obamas are now headed to the Capitol for the swearing in. They attended a brief prayer service at St. John's Episcopal Church, just across the way from the White House.
10:56 AM
TMM producers Arwa Gunja and Douglas Hopper are braving the cold out on the National Mall, taking in the scene... Earlier, they thawed their fingers long enough to write what they're seeing:
Douglas and Arwa, here ...
Lee, first of all, it is really cold.
We are in the middle of the mall with crowds of people on all sides. Most people are roaming around trying to find a great spot to stake their territory. Others are desperately searching for warmth ... A building to our right just opened its doors and throngs of people literally ran to the steps. (Again did I mention how cold it is??)
There are still hours to go before Obama takes the stage. But people are walking around with their heads held high. One African-American woman we spoke with is here from New York and remembers as a child having to ride in the back of the bus. She brought her son to witness this historic event.
Another group of ladies traveled all the way from Indiana. They call themselves "cosmopolites." They were 70+ in age, but said they wouldn't miss this for the world.
(Okay my hand is too cold to type anymore on this blackberry but we're going to check back in later ...)
Thanks, guys.
11 AM
The crowd here just burst into cheer after seeing the President-elect and his family arrive at the Capitol.
(Interesting to realization while watching all of this: Barack Obama enters the Capitol area as "President-elect" and will leave there as "Mr. President." Wonder if that's crossed his mind, heh?)
11:20 AM
Former presidents Jimmy Carter and George H.W. Bush and Bill Clinton, along with their wives, are stepping out onto the inaugural platform. Light applause here for the Clintons.
11:30 AM
Sasha and Malia, the two young daughters of Barack and Michelle Obama might just be the real stars here... According to the reaction here when seen stepping onto the platform, they have acheived "junior" rock star status.
... Okay, Michelle Obama is the true rock star, according to this crowd... A huge cheer for her.
As Joe Biden enters, people are already pumped here for the grand entrance of the President-elect.
Douglas Hopper's view from the National Mall: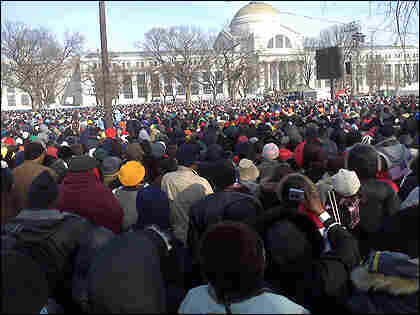 11:40 AM
President-elect Barack Obama steps out onto the platform. The Howard crowd gets a glimpse of him as he waits to be formally announced and the crowd roars ... and snaps photos of the big screen (hey, I guess it's the next best thing to being there) ...
11:50 AM
From boisterous cheers to complete silence here. The Rev. Rick Warren, of Saddleback Church offers the invocation.
11:53 AM
Tears in the room as songstress Aretha Franklin renders an emotional performance.
12:07 PM
Barack Obama takes the oath of office to become 44th President of the United States.