Ayatollah Khamenei Endorses Ahmadinejad's Re-election : The Two-Way Khamenei offers no concessions.
Ayatollah Khamenei Endorses Ahmadinejad's Re-election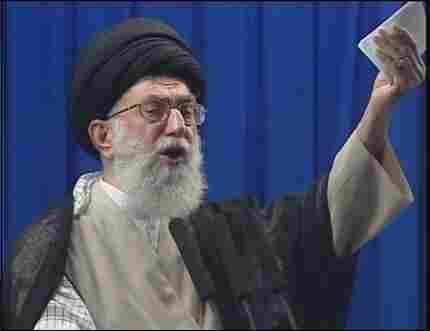 Word of what Iran's supreme leader had to say today about his nation's disputed presidential election is beginning to come out.
According to the Associated Press, "Ayatollah Ali Khamenei offered no concession to opposition supporters who are demanding the elections be canceled and held again." He said, AP reports, that there was "definitive victory" and no rigging of the results — which the government says showed President Mahmoud Ahmadinejad winning in a landslide over his closest rival, reformist Mir Hossein Mousavi.
Other reports about the ayatollah's address, delivered during Friday prayers at Tehran University:
— The Guardian says the ayatollah said that "rioting after the election is not a good way. It questions the election. If they continue (the consequences) will be their responsibility. ... I'm asking my friends and brothers to follow the laws. Let God give us blessing to follow those ways."
— Al Jazeera says Khamenei "backs Iran vote outcome."
We'll pass on more as details come in.
Update at 9:12 a.m. ET. The Associated Press offers this video report, which includes a glimpse of the ayatollah giving today's address:
Update at 8:30 a.m. ET: NPR hasn't been able to independently verify the accuracy, but here's a link The Guardian says takes you to a transcript of the ayatollah's address.
Update at 6:50 a.m. ET. NPR's Mike Shuster, who's been reporting from Iran and Dubai throughout the election and its aftermath, says the ayatollah left no doubt about where he stands — in favor of Ahmadinejad's re-election. Here's the conversation Mike had with Morning Edition's Steve Inskeep just a short time ago: