Bernanke Had Slow Start But Finished Strong (And He's Not Done)
We're only at Tuesday and already the quiet week the White House promised those journalists hanging out with President Barack Obama on Martha's Vineyard duriing his vacation has had two big stories.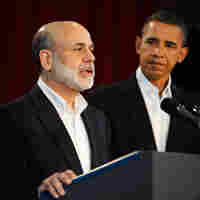 On Monday, the Justice Department released the CIA Inspector General's report on interrogations of terrorist suspects and the naming of a prosecutor to look into Bush-era practices for criminal wrong-doing. Today, the president will announce his faith in Federal Reserve Chairman Ben Bernanke as he names him to a second term. If it gets any "quieter" the president might want to consider taking another vacation if only for the sake of the journalists who had really hoped to have a quiet week.
The White House will forgive us, we hope, if we say we're suspicious about the timing of this announcement, that presidential aides may be trying to bend the newscurve, as it were, off the subject from CIA interrogations.
Anyway, back to Bernanke. His reappointment isn't a surprise even though the Fed chair got off the mark slowly when the economic crisis first happened. Indeed, some of his most memorable testimony in 2007 was when he famously told Congress that the subprime-mortgage mess was contained. Oops.
But once he realized it wasn't contained, he really got to work, essentially flooding the economy with as much money as he could to keep cash pumping through the economy's sluggish arteries and to offset as much as possible the credit squeeze, the fact that lenders essentially stopped lending.
Bernanke, for instance, pushed to make Fed money available to Wall Street firms that previously hadn't been able or willing to take such money. And because he and the other Fed members had already effectively set key lending rates to zero percent, Bernanke had the Fed engage in what's called "quantitative easing." In essence, the Fed went around Wall Street buying up financial assets which pumped even more money into the economy.
Bernanke, an expert on the Great Depression, knew that one reason that depression became so "great" was because monetary and fiscal policy initially was all wrong back in the early 1930s. They were too restrictive. He hasn't made the same mistake.
Bernanke has gained the confidence of the world's financial markets and has also tried to make the Fed less mysterious (remember his "60 Minutes" interview?) at a time when the world was really looking to it for leadership.
So, again, his reappointment always seemed more likely than not, despite all the chattering to the contrary.
There's been a lot of speculation that Lawrence Summers, the director of the National Economic Council and former Treasury Secretary, at one time coveted the Fed job. It appears to be off the table, at least for the next four years.