Geithner, GOP Lawmaker Trade Tough Jabs Over Economy's Woes
There were fireworks today on Capitol Hill when Rep. Kevin Brady, R-Texas, laid blame for the economy's problems on the Obama administration and called on Treasury Secretary Timothy Geithner to "step down from your post."
Geithner ended up telling the congressman that he won't "take responsibility for the legacy of crises you (and, presumably, other Republicans in Geithner's opinion) bequeathed the country."
It all happened at a hearing of the Joint Economic Committee — while Geithner was appearing before Brady and other members.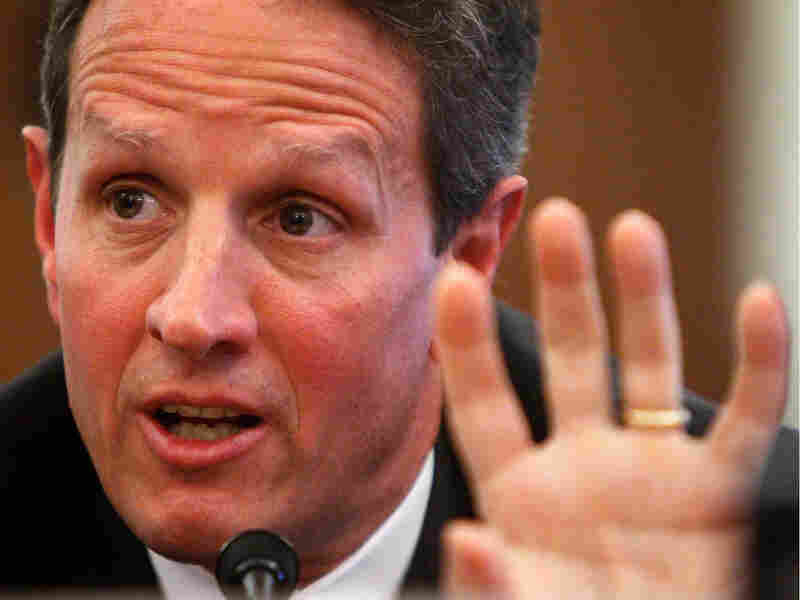 By the time the you-ruined-the-economy-NO-YOU-RUINED-THE-ECONOMY exchange finished, the two were talking over each other and Committee Chair Carolyn Maloney, D-N.Y., had to bring things to order.
We'll pass along two things to listen to.
First, a short clip of how the whole exchange finished. It begins with Geithner laying the blame for the economy's problems on the Bush administration and Republicans in Congress:
And, for those who want to get the full effect, here's the entire Brady-Geithner back-and-forth. It begins with Brady making the case that the Obama team has failed so far:
As Politico reported earlier today, Geithner has been taking heat from both liberals and conservatives.
NPR's John Ydstie will have much more about the committee hearing and Geithner on today's All Things Considered. Click here to find an NPR station that broadcasts ATC.