Nidal Hasan's DC Bosses Mulled Firing Him For Being Overweight : The Two-Way By Frank James Walter Reed Army Medical Center officials once thought they might be able to get Nidal Hasan out of the Army for being overweight but dropped the idea. (AP Photo/Uniformed Services University of the Health Sciences) From...
Nidal Hasan's DC Bosses Mulled Firing Him For Being Overweight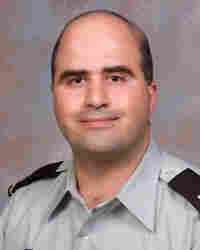 From the reporting of NPR's Daniel Zwerdling, we know that supervising psychiatrists at Walter Reed Army Medical Center who oversaw the work of Maj. Nidal Hasan warned him repeatedly that he wasn't measuring up.
We also know from Daniel that Hasan's Walter Reed colleagues wondered if he was psychotic because, as they told Daniel, Hasan sometimes didn't appear to be grounded in reality.
Now we learn from Daniel that some senior docs had achieved a eureka moment when they thought they had found a way to dump him: they would use his being overweight against him:
Here's what Daniel reported for the network's radio newscast:
Back in the Spring of 2007, Officials at Walter Reed decided, WE know how to get Hasan out of Army pyschiatry — he weighs too much. As we've already reported, some of Hasan's supervisors wanted to expel him because they felt his work was so poor.
But sources say those officials worried it'd be a long and cumbersome legal process to prove that he was a bad psychiatrist. So they came up with a strategy that they knew was irrelevant but easier: Army Regulation 600-dash-9 basically says you can only weigh a certain amount, given your height. And if you're over the limit, you can't get promoted. They could potentially kick you out of the Army.
But there's a top committee that had to agree with this strategy. It's called the Graduate Medical Education Committee .. And members said You can't just get rid of Hasan, you have to give him a chance to lose weight. And he undoubtedly will. They dropped the idea.