'Unimaginable' Destruction; PM Says Deaths May Be In Hundreds Of Thousands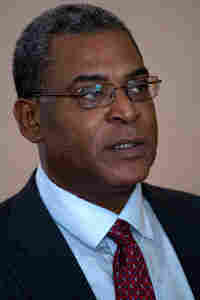 Saying he had personally had to step over dead bodies, Haiti's president told the Miami Herald today that his country suffered "unimaginable" damage in yesterday's earthquake.
"Parliament has collapsed. The tax office has collapsed. Schools have collapsed. Hospitals have collapsed,'' President Rene Preval said. "There are a lot of schools that have a lot of dead people in them.''
Prime Minister Jean-Max Bellerive, meanwhile, told CNN he fears that the death toll may reach into the hundreds of thousands. Haiti has just 9 million people, according to the CIA World Factbook.
On CNN a moment ago, Anderson Cooper reported from Port-au-Prince that no matter what street he travels, there's someone who needs to be rescued from a crumpled building. And "every few streets" he's seen bodies.
Our coverage of the disaster began here yesterday, and will continue throughout today. NPR.org's coverage begins here.