Tiger Woods: 'I'm Trying As Hard As I Possibly Can'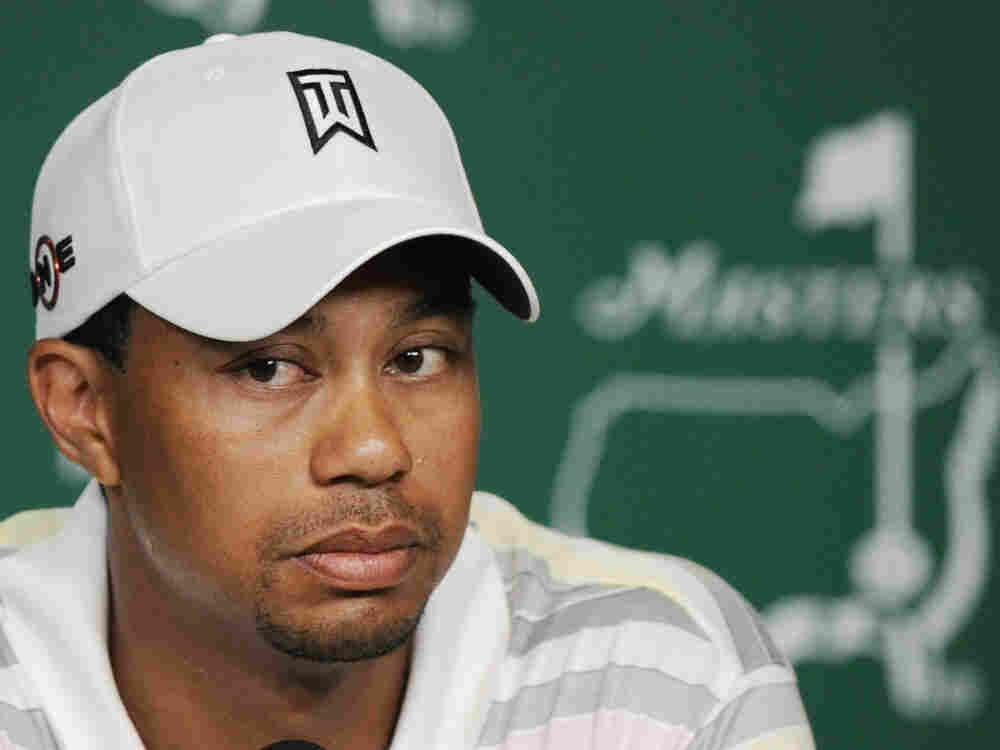 Expressing remorse, vowing to be a better man — and not going into specifics about either the incident that put his personal life on front pages or the rehabilitation treatment he's undergone since then — golf superstar Tiger Woods this afternoon took questions about the way his life turned upside down after a car accident led to revelations of his many extramarital affairs.
Woods at times sidestepped questions — talking about how badly he had hurt others and how wrong his affairs were, instead of responding when asked about how he had led such a "secret life."
At other times he was very direct — saying, for instance, that the reason why he went into rehab was "personal" and declining to be any more specific.
One of the most emotional moments came when he spoke of missing his son's first birthday. Woods was in rehab at the time. "I vowed I'd never miss another one after that," he told reporters, his voice halting just a bit.
One thing hasn't changed about the best golfer in the world: He's still aiming to win this week's Masters Tournament in Augusta, Ga.
Read on for our live-blog coverage of the Woods' news conference.
Our live-blog:
Update at 2:32 p.m. ET: What are his expectations for this week's Masters?
"Nothing's changed. ... I'm going to try and go out there and win this thing."
Update at 2:29 p.m. ET: "I'm trying each and every day as hard as I possibly can" to live a better life, Woods says.
He's asked if the sleeping drug Ambien played a role in this Thanksgiving Night car accident. All Woods notes is that the police did not cite him for any violation involving such a substance.
Update at 2:25 p.m. ET: How did he fool so many people? "I lied to a lot of people. Deceived a lot of people. ... And even lied to myself."
Was he asking to be caught by leaving such an evidence trail — most notably in the form of text messages and voice mails for his mistresses?
"I don't know. All I know is I acted just terribly, poorly."
Update at 2:23 p.m. ET: Woods reveals that he missed his son's first birthday because he was in rehab.
"That hurts," he says. "I vowed I'd never miss another one after that."
Update at 2:19 p.m. ET: Woods says he should never have "lost" the lessons he learned growing up, as a Buddhist.
"I just lost that and unfortunately also lost my life in the process," he says.
Update at 2:17 p.m. ET: He was in "rehab" for 45 days, says Woods, "to take a hard look at myself, and I did. I've come out better."
What was he being treated for? "That's personal," Woods says.
Update at 2:14 p.m. ET:
Woods says he has taken Ambien and Vicodin. The Ambien was to help him sleep, during a "hard time" after the death of his father. The Vicodin helped him deal with pain from a knee injury. He's never been treated for problems with those drugs, Woods says.
Update 2:11 p.m. ET: "I've never taken any illegal drug, ever," Woods says, after being asked about reports he received treatments from a doctor who has been implicated in a human growth hormones scandal.
Update at 2:10 p.m. ET: How did he lead a "secret life?"
Woods doesn't really answer the question. He gives a response that boils down to "I did it" — had extramarital affairs.
Update at 2:08 p.m. ET: He's said he's going to show the golf game more respect — how so, Woods is asked?
"I'm actually going to try and obviously not get as hot when I play," says Woods, who's known to have a temper on the course. He won't be "as exuberant either."
Update at 2:06 p.m. ET: The first question is about the injuries he received in the Thanksgiving car crash. His lip needed a few stitches, Woods says.
Update at 2:05 p.m. ET:
Woods opens up by saying that during his practice round this morning, "the galleries (spectators) couldn't be nicer. ... It blew me away ... (and) touched my heart pretty good."
Earlier today, NPR's Tom Goldman reported that, "since his infamous car crash last November and the ensuing revelations of numerous affairs," Woods had been "in virtual hiding":