On Visit To Osh, Kyrgyzstan's Interim President Promises To Rebuild City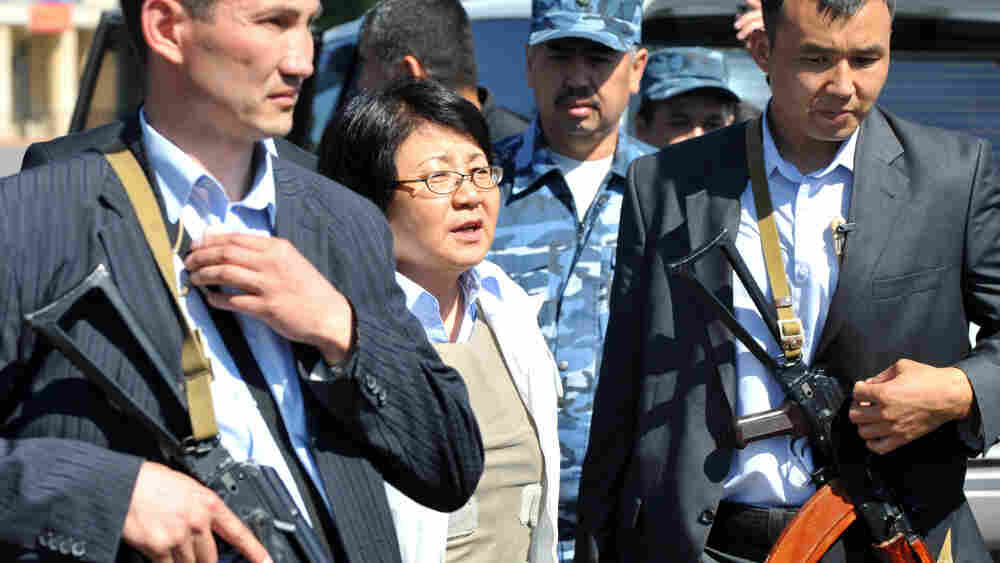 Kyrgyzstan's leader, Roza Otunbayeva, is touring the devastated southern region of her country today, NPR's David Greene reports. She became the country's interim president after a bloody uprising in April.
Otunbayeva has promised to rebuild the city of Osh, which lies in ruins after ethnic riots that broke out there.
Over the past few days, some residents of Kyrgyzstan's south, increasingly desperate for aid and safety, have asked, "Where's Roza?"
Today, Otunbayeva traveled by helicopter to Osh, where she told told local leaders that "we will rebuild not matter what, so people can return to their homes."
According to Greene, reporting from Bishkek, tens of thousands of people — mostly minority Uzbeks — remain out of their homes, in refugee camps in Uzbekistan or in Uzbek villages on the Kyrgyz side of the border.
With the humanitarian crisis worsening, there are doubts about whether Otunbayeva's government can hold a constitutional referendum scheduled to take place on June 27.
According to Clifford J. Levy, reporting for The New York Times, "as many as 400,000 have fled their homes.  Barricading themselves in their cities and neighborhoods, Uzbeks have essentially set up autonomous zones and are refusing to recognize the authorities in the capital."
"Kyrgyzstan, an obscure country with a coveted location in Central Asia, is in serious danger of fragmenting," he reports.