Obama Hits GOP For Opposing Campaign-Finance Bill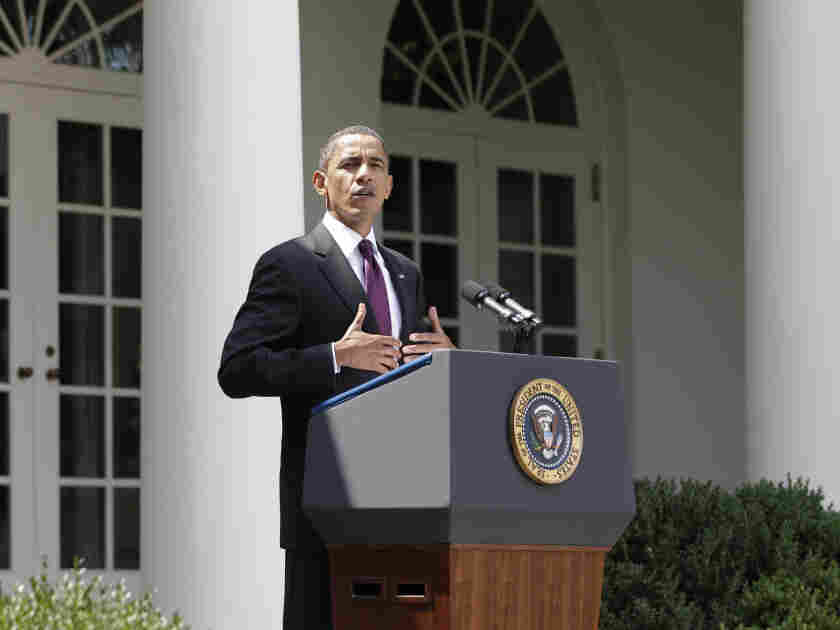 With the mid-term elections one day closer, President Barack Obama on Monday tried to raise the heat on congressional Republicans by accusing them of standing in the way of Democrats' attempts to bring greater disclosure to campaign financing and advertising.
The White House has signaled that it intends to frame the coming election as a choice between what Democrats assert is the progress they've wrought for Americans versus the alleged regressiveness of Republicans.
To that end, the president spoke in support of the DISCLOSE Act. Democrats are pushing legislation they say would bring more transparency to the financial backers of campaign ads. Senate Democrats plan a Tuesday vote to try and end a Republican filibuster.
The bill is a response to the Supreme Court's decision in the Citizens United case in which a sharply divided court knocked down as unconstitutional restrictions against companies and unions directly financing political ads.
So the House has already passed a bipartisan bill that would change all this before the next election.  The DISCLOSE Act would simply require corporate political advertisers to reveal who's funding their activities.

So when special interests take to the airwaves, whoever is running and funding the ad would have to appear in the advertisement and claim responsibility for it, like a company CEO or the organization's biggest contributor.

And foreign-controlled corporations and entities would be restricted from spending money to influence American elections, just as they were in the past.

Now, you'd think that making these reforms would be a matter of common sense, particularly since they primarily involve just making sure that folks who are financing these ads are disclosed so that the American people can make up their own minds.

Nobody's saying you can't run the ads; just make sure the people know who, in fact, is behind financing these ads.  And you'd think that reducing corporate and even foreign influence over our elections would not be a partisan issue.

But of course, this is Washington in 2010, and the Republican leadership in the Senate is once again using every tactic and every maneuver they can to prevent the DISCLOSE Act from even coming up for an up-or-down vote, just like they did with unemployment insurance for Americans who'd lost their jobs in this recession, just like they're doing by blocking tax credits and lending assistance for small-business owners.  On issue after issue, we are trying to move America forward, and they keep on trying to take us back.
Republicans responded with their version of "It's the economy, stupid." Their strategy is to try and parry every attack from the president by reminding voters of how bad the economy is despite Obama's efforts to turn it around.
A statement from Senate Minority Leader Mitch McConnell:
"The mere suggestion that a bill designed to save politicians' jobs should take precedent over helping millions of Americans find work is an embarrassing indictment of Democrats' priorities. The DISCLOSE Act seeks to protect unpopular Democrat politicians by silencing their critics and exempting their campaign supporters from an all out attack on the First Amendment. In the process, the authors of the bill have decided to trade our Constitutional rights away in a backroom deal that makes the Cornhusker Kickback look like a model of legislative transparency."