Explosions At Two Embassies In Rome; Others Being Searched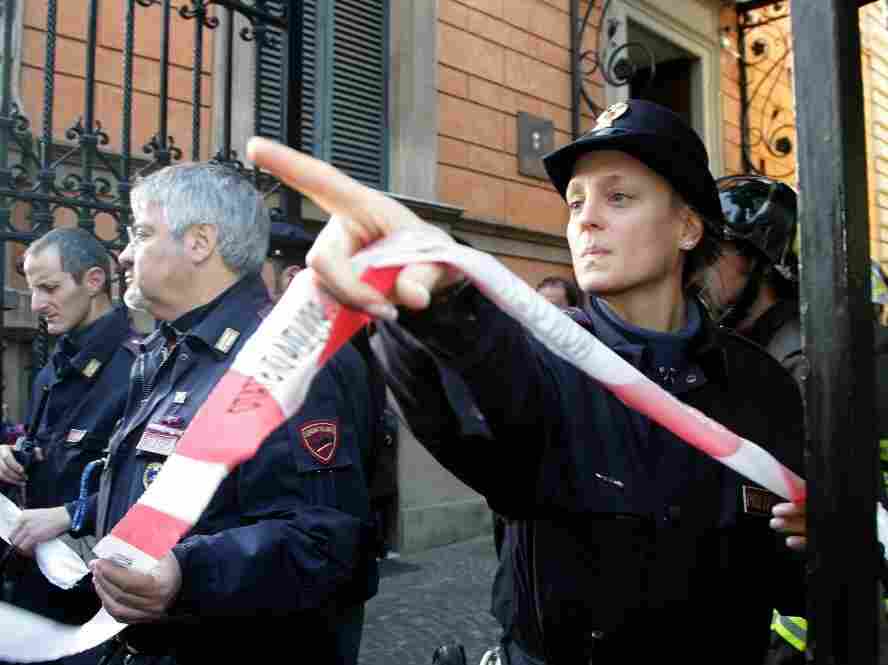 Franco Origlia/Getty Images
An earlier report that "a package (has) exploded at the Swiss Embassy in Rome on Thursday, seriously wounding one person" has now been followed by this alert from the Associated Press:
"Italian news agency ANSA says package explodes at Chilean Embassy in Rome, 1 wounded."
These follow Tuesday's discovery of a suspicious package on a Rome subway train.
We'll update this post as more information comes in.
Update at 12:37 p.m. ET. Italy's ANSA news agency now writes that:
"Interior Minister Roberto Maroni said police think the blame may lie with anarchist terrorists who are also suspected of being behind parcel bombs sent to foreign governments and embassies in Athens last month. 'The lead we are following is that of anarchist subversives,' Maroni said. ''The clues come from similar episodes in Greece in November.' "
Update at 11:10 a.m. ET. The Associated Press files this video report:
Update at 10:20 a.m. ET. NPR's Sylvia Poggioli now reports from Rome that:
"There has been no immediate claim of responsibility for the incidents, which are similar to events in Greece last month. There, anarchists were suspected of sending booby-trapped parcels to the offices of German Chancellor Angela Merkel and to Italian Prime Minister Silvio Berlusconi, as well as several embassies."
Update at 9:35 a.m. ET: The English-language website of Italy's ANSA news agency is here. It reports that:
"A staff member was also injured in the Chilean embassy blast, although he was reportedly not in a life-threatening condition. A 53-year-old employee from Swiss embassy will be operated on at the city's Policlinico Umberto I hospital and risks losing his left hand, apparently after a parcel blew up when he opened it. A suspicious package was also found at the Ukrainian embassy in the Italian capital."
Update at 9:31 a.m. ET: Britain's The Telegraph writes that "
"The Rome prosecutor's office has opened an investigation on suspicion of 'an attack with terrorist aims,' ANSA news agency reported. One of the investigators said that one of the main lines of inquiry was on  'anarchist circles of the eco-terrorist movement.' Another possibility mentioned by investigators is that 'the attack was organised by insurgent anarchist groups'."
Update at 9:29 a.m. ET: Reuters reports that Italian police say they are now checking all embassies and consulates in Rome.
Update at 9:26 a.m. ET: According to the BBC, "a suspect package was also being investigated at the Ukrainian embassy, Italian media report."
Update at 9:12 a.m. ET: The Globe and Mail writes that "Corriere della Sera newspaper said the Chilean embassy staffer's injuries were 'not serious' after the blast near Villa Borghese in central Rome."
Update at 9 a.m. ET: NPR's Sylvia Poggioli reported earlier that at the Swiss embassy, "the package was opened by an embassy employee who has been hospitalized for serious wounds on both hands."